Chris Laggini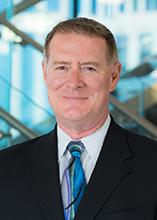 Chief Human Resources Officer
Chris Laggini joined DLT Solutions in 2004 as vice president, Human Resources (HR). His team is responsible for employee recruitment, compensation, benefits and compliance. Chris also oversees DLT University, a program dedicated to professional development across a variety of topics and levels.
Chris believes that employee development and relations are at the core of the DLT strategy. As such, he and his staff strive to foster a culture that is high-performance and enriches employees both personally and professionally. He has created and oversees a number of employee-run committees including Go Green, the Wellness Committee, and the DLT Foundation, which donates both time and money to local charities.
Prior to joining DLT, Chris served as director of HR for Safe Harbor Technology Corporation, and has held positions in human resources for Amerada Hess, Foster Wheeler and National Starch and Chemical. Over his nearly 30-year career, Chris has been credited for building outstanding HR organizations from the ground up and for spearheading employee-focused initiatives that resulted in strong retention and enriched corporate cultures.
Chris earned a bachelor's degree from Ramapo State College.