Amy Kelly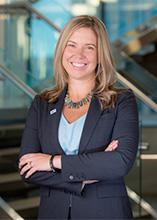 Vice President, Human Resources
Amy joined DLT Solutions in 2017 as Vice President, Human Resources. The focus of her career has been on building and developing world-class teams and market-leading employment brands that drive business success. She believes that strong company culture is a strategic asset for winning in the marketplace.
Amy leads the Human Resources, Training & Development, and Office Administration Teams that deliver all aspects of the DLT Employment Value Proposition into the market and for current DLT employees.
Prior to joining DLT, Amy worked in executive leadership roles in Human Resources, Organizational Development, Business Development and Training. Her experience includes building award-winning Employment Brand Programs and designing award-winning Training, Leadership Development and Corporate University Programs.
Amy is an author and speaker on Organizational Development and full life cycle Talent Management, as well as an active member of the Society for Human Resource Management (SHRM) and ATD (Association for Talent Development).
She earned a bachelor's degree with a double major in Business Administration and Communications from Flagler College in St. Augustine, Florida and graduated from the George Mason Leadership Coaching for Organizational Well-being Program in 2017.