Scott Needleman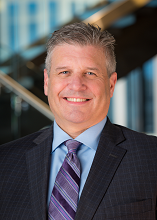 Vice President & General Counsel
Joining DLT in July 2017, Scott brings almost 20 years of public sector experience and will oversee all aspects of DLT's corporate legal and contracts organization. As a business-minded, legal professional dealing with technology, IP, M&A, compliance, process, resale, distribution, and services, Scott has deep relationships and an excellent reputation within the vendor community.
Scott comes to DLT most recently from Mythics and prior to that spent 15 years with Arrow/immixGroup where he led the legal and contracts teams and corporate development. Throughout his tenure he worked to structure legal/contracts teams that scaled to support thousands of transactions between more than 250 vendors and over 800 VARs/System Integrators -- utilizing more than 40 contract vehicles -- resulting in $2B in annual sales.
With expertise managing P&L, structuring enterprise level transactions, compliance, and pricing nuances of selling enterprise IT products to the public sector, Scott earned his Bachelor's degree in Economics from University of Maryland and his J.D. from University of Baltimore School of Law.