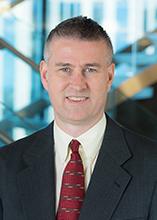 Vice President, Financial Planning and Analysis
Steve McDaneld joined DLT Solutions in 2005 to lead the finance team where he is responsible for assessing existing and proposed financial plans and projects as related to the company's long-range goals, creating sales compensation plans, evaluating and implementing pricing strategies to maximize profitability and managing the corporate insurance function.
In 2014, Steve was promoted to Vice President of Financial Planning and Analysis.
Prior to joining DLT, Steve served as Finance Team Leader at Marsh & McLennan, and also held positions in finance with Network Solutions, MCI Telecommunications, and Home Savings of America. Over his 20 years in corporate finance and planning, Steve has provided strategic analysis and planning of corporate profitability, mergers and acquisitions, and new product and service development.
Steve earned his BS in Mathematics/System Science from the University of California, Los Angeles and his MBA from the University of Southern California.