Food for the Soul – A Little AEC Knowledge Shared goes a Long Way

2011 marked my 20th year working in the AEC space.  In those 20 years I've been incredibly lucky to have worked on projects great and small in the private and public sectors all over the world.  One might assume my proudest moments would be related to massive projects like The Bay Bridge, The World Trade Center, etc.  While I am proud that I have touched many, iconic mega-projects; whenever I am asked what is the work I am most proud of my answer is always the same.  I love sharing my knowledge / experience / expertise with AEC technology with folks who in most circumstances might not ever be exposed to it.
I began working with KnowledgeWell back in 2006.  Within two years I had given two BIM presentations on Guam, discussed GIS with government planners on Saipan, and I taught an AutoCAD Civil 3D class in Micronesia barefoot and in shorts!  Sure I got to visit exotic places, and to see and do some amazing things but what keeps me coming back are comments like this:  "You are the first foreigner to visit here who gave something to us.  Everyone else takes.  They take pictures.  They take artifacts.  They learn all about our history do all sorts of scientific study and take all that with them when they leave.  You asked for nothing.  You taught us things we can use to save our home."  The woman who told me this was in tears.  So was I.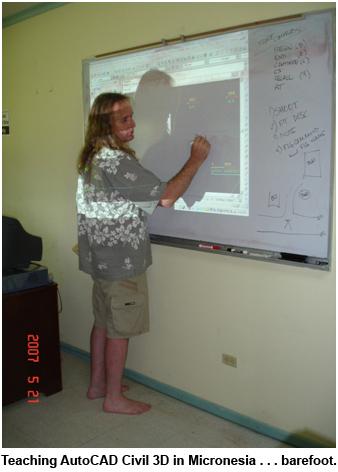 After an experience like that I was completely hooked.  I volunteer to teach and share the things I am familiar with every chance I get.  Whether it's teaching a class on an Autodesk software, presentations to folks on workflows like BIM, the value of LiDAR and laser scanning, or connecting people with other people with similar needs, it's rewarding, really fun, and great food for the soul.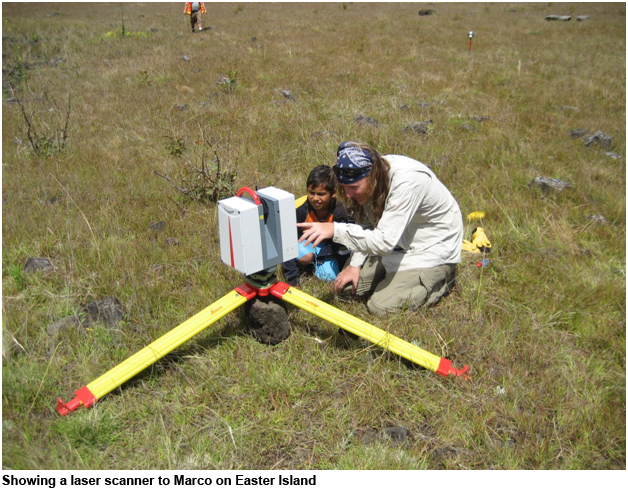 On one trip as I got off the plane on a remote Pacific island I was handed a health warning about a dengue fever problem that was making a lot of people sick.  I suggested that the mayor use AutoCAD Map 3D to determine where the sick people lived and then compare that data with standing water where dengue infected mosquitos could be breeding.  An easy task from a technical point of view but the outcome profoundly increased the quality of life on the island soon thereafter.
On another visit I suggested using AutoCAD Civil 3D to help understand how the ground water might become contaminated by seepage from a local landfill.  I have since heard that a geotextile was used to halt this potential health risk.
On Easter Island, aka Rapa Nui, I took my laptop to the elementary school and showed some great kids 3D models created with Autodesk solutions.  They went absolutely wild.  I had a fabulous day.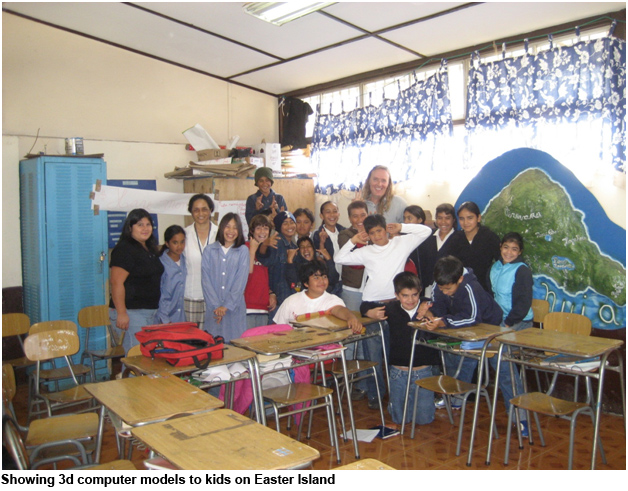 So take a chance and volunteer.  Using your skills for these kinds of endeavors is an absolute blast.
About Pete Kelsey
Pete has been working with civil engineering, GIS, and measurement technologies for over 20 years.  In that time he has been an end user, he has worked for an Autodesk reseller, he was an independent consultant, and he founded a leading AEC services company.  Pete has been with Autodesk since 2006.  He has been a worldwide technical evangelist and currently works with Autodesk Major Accounts as a Technical Account Manager helping the world's largest AEC firms integrate Autodesk solutions into their complex workflows.
About this Blog Series
This is the first in a series of blogs that shares the extraordinary and sometimes life-changing stories and experiences of a group of CAD, AEC, GIS and BIM experts who have chosen to share their knowledge with under-served communities and nations. These volunteers work hand-in-hand with KnowledgeWell, a non-profit organization whose goal is to transform the barriers faced by under-resourced nations into opportunities for successful business enterprise and public sector programs. From Guam to Palau and beyond, KnowledgeWell helps these communities to become more self-sufficient, increase their visibility in the global marketplace and create awareness of sustainable, environmentally friendly business practices.
Related Articles
By Pete Kelsey, Technical Account Manager, Autodesk, Inc.