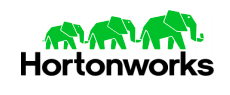 Hortonworks is a leading innovator of open and connected data platforms. Built entirely on open source technologies, including Hadoop, Hortonworks' gives public sector organizations visibility into their data and insights about its value—even with limited resources or budget. Because Hortonworks uses 100 percent open source technology, agencies are not locked into proprietary products and vendors that cannot evolve to meet shifting priorities. Their platforms integrate with Apache Hadoop, which allow agencies to easily manage all types of data. With provided expertise and support, government is enabled to better understand their data.
Hortonworks plays a key and foundational role in DLT AnalyticsStack supporting open source Apache Hadoop and Spark processing capabilities critical to the analytics objectives of the various layers of the stack.
PRODUCTS
Data Platform (HDP) - Enterprise Hadoop powered platform that is used to store, manage and analyze large amounts of data.


Static Data: things stored in multiple databases, they can access all of it
Provides historical data information

DataFlow (HDF) - End-to-end platform that collects data in real-time.


Live data: platform provides real time data information

Azure HDInsight - Cloud platform designed to make Hadoop and Spark easier to use.
HDCloud for AWS - A platform that allows you to analyze and process data. It gives you the ability to give the resources back to the cloud.
Sandbox- A personal desktop environment used for HDP, HDF, and Azure. Comes with interactive tutorials and features that help beginners better understand the software.
SOLUTIONS
Ability to capture and organize unstructured data not normally attainable by the organization
Ensures that all cloud features are safe and secure
Ability to customize data flows for personal needs
Data systems with a one-to-one relationship between the end application and storage platform
Predictive analytic tools for future forecasts
For more information, call 1-800-262-4DLT or email hortonworks@dlt.com