Careers
Accelerate your career as a part of a leading business team
Accelerate your career as a part of a leading business team
Accelerate your career as a part of a leading business team
DLT is the best company in the marketplace to learn about the public sector and fast-track your career. We invest in our employees and want to take their careers to the next level, at an accelerated pace. Our strategy is to hire exceptional talent who will thrive working beside and collaborating with our employees.
Fully-equipped with competitive benefits, we offer corporate university trainings through DLT University, unique career-development opportunities, competitive benefits, a professional – yet relaxed dress code, and a workplace full of excitement and enthusiasm. We are committed to ensuring the best for all future and current employees.
DLT's Five Core Values
The DLT Core Values are the foundation for how we bring our differentiated aggregation offering to market.
The DLT values represent common priorities and a deep commitment from every member of the team to conduct business with defined standards. Every DLT employee believes that demonstrating these values in our work and personal lives is essential to delivering success. A part of our onboarding process involves a signed commitment to these values.
If these values "make you feel at home," you may be the right fit to apply for a role and grow your career at DLT.
| | |
| --- | --- |
| | 1. Integrity: Conduct interactions with truthfulness and acting in alignment with a set of strong, defined ethics. |
| | 2. Accountability: Demonstrate to the team and marketplace that you can be trusted to proactively deliver the highest standard of results. |
| | 3. Intrapreneurship: Embody the vision and mission of the company while acting with an owner mindset. An owner mindset is bringing all your passion, innovation, and commitment to your role while managing company resources as if they were your own. |
| | 4. Collaboration: Be open to and prioritize ideas and contributions at all levels of the organization in order to find the best solution to drive company and career growth. |
| | 5. Community: Create opportunities to display generosity in the communities where employees live and work. |
DLT University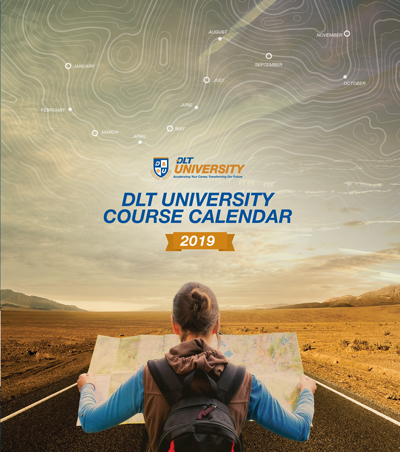 In the DLT University programs, we build experts in accelerating growth for technology companies in the public sector. We hire people that are growth-minded, proactive learners that enjoy the process of becoming a more effective business professional and build and manage programs to develop careers in alignment with our company mission.
DLT University offers a blended learning approach for teaching leadership development, job-specific training, public sector market knowledge, and relevant technology fundamentals. Our programs leverage the DLTU learning management system (LMS), classroom learning, on-the-job training, and special development projects.
The one-of-a-kind DLT Technology Domain program helps employees establish foundational knowledge in cyber security, big data & analytics, cloud computing, business applications, IT infrastructure, and application lifecycle. The program takes each learner through three or four phases (depending on career appropriateness and role): Awareness, Knowledge, Leadership, and Expertise.
Life At DLT
What is life like as a part of the business team at DLT?
So many companies say, "We work hard and play hard." We redefine that phrase.
The employees at DLT enjoy business and thrive in an atmosphere where business is the priority, and enjoying the team that makes it all happen is front-and-center as a part of the process.
At DLT, we plan, we work smart, and we celebrate our successes. Our culture is about winning in the marketspace for our clients, partners, customer, and employees. Our internal and external teams set goals, execute, and measure results.
We win and celebrate often, because we often drive business success worth celebrating. While we are winning, we support each other, we push each other to greater levels of business excellence, we have fun together, and we build an environment where we can enjoy the process and the fruits of our labor.
Benefits
DLT offers comprehensive and competitive health benefits programs that include medical, dental, vision, and relevant life insurance offerings. In addition, DLT's benefits offering includes a 401k retirement program that includes company matching.
The benefits programs are benchmarked regularly to continue to provide a competitive offering and identify any additional benefit priorities for our employees.
Each year, a total wellness program is offered that includes general health education and financial health education, as DLT prioritizes the physical, emotional, and financial health of employees.
Testimonials

"DLT nurtures a culture of learning and intrapreneurship, while promoting a growth mindset. I have benefited from this culture greatly. Since my arrival I have been empowered and provided opportunities to take on challenges, new tasks and responsibilities to grow myself as a professional while progressing my professional brand."
-- Chip

"Whether you're fresh out of college ready to start your career or a seasoned veteran aspiring to further your growth, DLT's culture allows you to learn as much as you want to learn and grow as much you want to grow."
-- Louis

"DLT is a great place to work because you are given endless opportunities and resources to learn and grow. No matter what your background is, you will feel challenged, inspired, and encouraged to be a better version of yourself each and every day."
-- Mariah
We're always looking for great people with a positive attitude, strong work ethic, and willingness to learn. Are you ready to take the next step in your career?
EOE
DLT is an Equal Opportunity Employer and treats all employees and applicants for employment without unlawful discrimination as to race, creed, color, national origin, sex, age, disability, marital status, sexual orientation, or citizenship status in all employment decisions, including but not limited to recruitment hiring, compensation, training and apprenticeship, promotion, upgrading, demotion, downgrading, transfer, lay-off and termination, and all other terms and conditions of employment.