Power Analytics: Helping Airport Managers Take Flight
When power is the lifeblood of your business, outages and interruptions can put your entire operation at risk. [acronym] online looks at how airports and other organizations can look to power analytics to avoid costly interruptions and enhance the security of their mission-critical operations.
In December 2008, a partial power outage at Denver International Airport interrupted normal operations during one of the busiest travel days of the year. While gate activities and air traffic control were not affected, the Transportation Security Administration (TSA) security checks had to be done manually. The three-hour outage led to longer than usual wait times for passengers trying to get through security, with ensuing disruptions in their travel plans.
For airports and air traffic control facilities, the loss of power for even a few minutes can critically impact operations. Power is what keeps flight and ground systems operational, terminals and concourses open for passengers, cargo moving, and related organizations such as TSA and immigrations and customs functioning. Electrical power is also crucial to support functions such as restaurants, retail outlets and parking facilities.
When power is the lifeblood of your business, outages and interruptions can result in a significant loss of revenue. In fact, every year electrical power problems cause more than $150 billion in downtime and damages. According to Mark A. Ascolese, Chairman and CEO of EDSA, a San Diego-based electrical software company, that number could go down dramatically if more organizations took proactive measures to mitigate their risks to power losses.
"One of the biggest misconceptions about power failures is that they usually strike without any warning," said Ascolese. "Most organizations aren't aware that 80 percent of their electrical power problems originate within their own facility, not some external source. While some incidents are not preventable, the vast majority can be predicted before they occur by using power analytics."
Power Analytics for Mission-Critical Operations
A relatively new field, power analytics is the science of scrutinizing electrical power infrastructure to determine whether it is performing properly and energy-efficiently. It is also used to detect operational problems in a power infrastructure before they cause an interruption. EDSA, a pioneer in real-time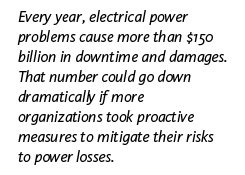 power analytics, recently partnered with DLT Solutions – a technology solutions provider in Herndon, Va. – to help airport authorities and those involved in the design and management of airports to meet some of their most demanding electrical challenges. These range from controlling financial losses from power interruptions to containing energy costs to improving safety for those working on the power infrastructure.
EDSA's proprietary power analytics software platform, Paladin, helps organizations maintain high levels of electrical power reliability while simultaneously lowering their energy consumption. Using sophisticated mathematical models, Paladin checks, interprets and diagnoses the vital signs of an electrical infrastructure. When it detects a symptom that warrants further investigation, it automatically knows what surrounding factors to scrutinize and, based upon its findings, determines when and where problems could be. The platform can be a key tool to enable airport managers to move their passengers and cargo through the facility with maximum efficiency and minimum cost.
"Airport managers and regional airport authorities are responsible for some of the most mission-critical operations in the country," Ascolese remarked. "So whether you are involved in airport design, construction, or operations management, knowing that your electrical power infrastructure will perform as intended – without interruption, whatever the circumstance – is essential."
Ascolese went on to explain that Paladin supports two crucial tasks: designing and testing power systems – and scrutinizing their actual performance versus their as-designed performance.
Designing and Testing Power Systems
Paladin DesignBase™ lets electrical engineers simulate, understand, and reengineer how their entire electrical infrastructure will respond in the event of unexpected faults or routine system maintenance. Through rigorous testing, potential design problems are engineered out, and both emergency and maintenance procedures can be tested until they are perfected.
The software can simulate virtually any type of electrical power condition. And with a robust Blackboard™ simulator that performs what-if scenarios, DesignBase provides answers to critical unknowns such as: What will happen if I close this breaker? How far can I push my power infrastructure? What can I do to increase the system's capacity?
Comparing Actual Versus As-Designed Performance
Paladin Live™ is an online operations management tool that gives in-depth visibility into what's happening in a power infrastructure – including the things that haven't happened yet. Using Web 2.0 technology, it enhances power systems reliability, manageability, and predictability by:
Performing an online assessment of the as-designed system and comparing that to the actual integrity of the electrical infrastructure.
Using as-designed versus actual measurements to analyze and predict when and where potential power problems are in the formative stages.
Immediately reporting on variations and their potential consequences.
Isolating pending problems and identifying optimum fixes.
Of particular importance, Ascolese noted, is that the fact that the system stores a minimum of three years of historical data, enabling users to track and trend every piece of information so they can make sound decisions and anticipate future power system needs.
Energy Savings and Critical Infrastructure Protection
Over time, wear and tear, dust and other environmental conditions cause electrical infrastructure – and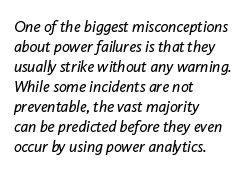 the electricity-consuming equipment throughout it – to deteriorate. The Paladin suite allows users to track the impact of that degradation, offering important insight into what equipment needs to be replaced and when. By ensuring that systems are operating optimally, energy can be used as efficiently as possible and, in turn, lower utility costs. This can be an important advantage to organizations trying to meet green mandates and nationwide energy-reduction initiatives.
Paladin's power analytics system has been proven in an extensive range of customer environments. From deep-sea platforms hundreds of miles from shore, to one of the world's largest financial data centers, to FAA air traffic control centers, Paladin is entrusted to protect more than $100 billion in customer assets.
Paving the Way for a Safe and Efficient Airspace System
For 15 years, the FAA has looked to EDSA to help it eliminate business and operational damages caused by electrical power problems in the U.S. National Airspace System, manage its critical infrastructure, meet operational goals, and support the daily needs of engineering staff and end-users. Today, the agency oversees the safest and most reliable airspace in the world, and has used the Paladin system to dramatically reduce the service interruptions and delays caused by electrical power outages.
Thus, Ascolese is excited about the potential Paladin can bring to airports and airport authorities nationwide. "When you look at all of the benefits airports and airport authorities can reap from power analytics – greater system reliability, greater operational control, improved energy efficiency, lower energy costs, increased safety for maintenance staff – the investment in this technology really pays for itself. That's a huge bonus in today's economy."
by Colleen O'Hara, Reporter