Putting Virtual "Boots on the Ground" – Law Enforcement Gets Intelligence on Demand
If you are a law enforcement official, you'll understand the power of geospatial imagery as an essential enabler of location and terrain intelligence gathering.
But while traditional satellite imagery and GIS systems provide invaluable situational awareness capabilities, they don't always provide all the answers.
For one, traditional geospatial imagery is orthogonal, i.e. "a top down view", which flattens the landscape and gives no perspective, making it tricky to gain a true representation of terrain or buildings – after all it's hard to pre-plan a mission or understand potential risk factors about a structure or location when all you see is an anonymous tiled roof and vague perimeter.
Another problem with traditional satellite mapping and imagery is that the server infrastructure needed to house these huge volumes of data is not always practical or affordable for agencies and law enforcement teams.
So it's interesting to see what can be achieved when these two challenges are addressed head on, something Lockheed Martin and Pictometry International's have collaborated to provide in the form of Lockheed's new "Intelligence on Demand" web portal.
Intelligence on Demand (IoD) combines mapping, data, and analytic tools and delivers them as a secure service from a cloud infrastructure to law enforcement officials on their mobile devices.
Designed to help public sector and law enforcement officials who need anytime access to GIS data and analytic tools in the field, IoD uses a library of more than 100 million oblique and orthogonal satellite images to give an unprecedented level of situational awareness at any given location.
Users can access the portal from any web browser and download the imagery they need, and then conduct advanced analysis using IoD's built-in tools in support of surveillance, risk reduction and information sharing during tactical planning and field operations.
Multiple, Integrated Viewpoints
The key market differentiator for IoD is that it provides the four traditional north, south, east and west oblique images of a structure, plus an integrated orthogonal shot and an integrated satellite and map view – all of which combine to provide the viewer with seven unique views of a location. If you think about what this means – instead of having a top down image of a building's roof, with IoD officers have fingertip and up-to-date images to command multiple viewpoints of any given location.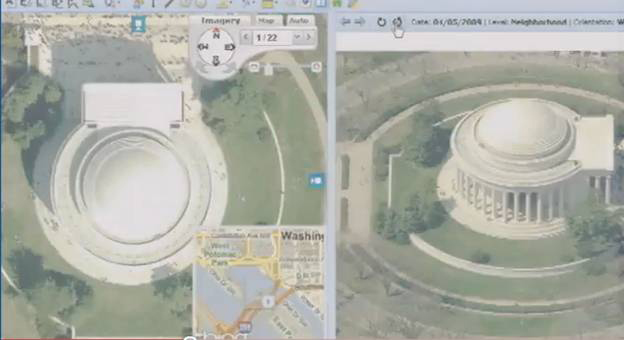 An orthogonal "top-down" image of the Lincoln Memorial (left), combined with an example of an oblique image (right) is integrated through the "Intelligence on Demand" viewer and combined with map-based data to deliver a low-cost solution for enhanced mission situational awareness and pre-planning capabilities.
Analyze and Exploit Images – "Know Before you Go"
Combining this unique imaging capability with analytic tools, IoD is already being used by law enforcement officials to help them understand every aspect of their alleged target before they go out and conduct an operation. Accessible through a regular web browser, IoD includes analysis tools that pinpoint the exact location of interests, from here the user can immediately start conducting a preliminary site assessment, identifying and annotating location features, determining lines of sight, assessing areas of concern and mapping out operations in three dimensions.
While IoD doesn't replace "boots on the ground", Lockheed and Pictometry have developed an affordable solution for instant, anywhere access to "intelligence on demand" that provides situational awareness on a low-cost and powerful software-as-a-service (SaaS) platform that is as near are "being there" as you can get.
IoD is available on a subscription basis and requires no equipment or software to install. Learn more.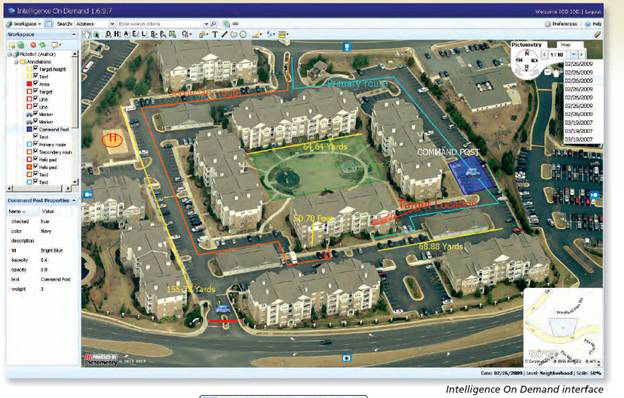 This YouTube video gives a better sense of the true capabilities of IoD, and demonstrates how law enforcement officials to reduce surveillance costs, verify and share key intelligence about suspect locations, and use IoD imagery and information during the trial process to back-up prosecution cases.
You can also learn more at this upcoming Intelligence on Demand Webinar on December 2, 2.00 PM ET.