How one Public Sector Agency is Transforming New York's Design and Construction Landscape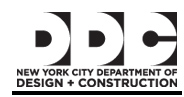 Ever wondered who is responsible for the design and construction of many of the award-winning civic facilities in New York?
With a portfolio valued at over $6 billion and a staff of almost 1,200, the New York City Department of Design and Construction (DDC) is the city's primary capital construction and infrastructure project manager.
DDC is also an innovator in the use of GIS and building information modeling (BIM) for which it was awarded runner-up status in the first ever [acronym] Magazine Public Sector CAD Awards, held last November in Washington, D.C.
DDC employs a variety of Autodesk digital design tools to minimize errors in the design process, improve collaboration across stakeholders and reduce project complexity, while making more effective use of public funds. Included in its design arsenal are Revit Architecture, Revit Structure and AutoCAD MEP for design coordination, documentation and visualization. While Navisworks and Solibri Model Checker are also used for coordination and model conflict resolution and serve other uses as well.
Combining best practices with design technology, DDC has improved project delivery while being asked to achieve more on a tighter budget.
DDC's projects have included everything from roadway construction, storm water systems, building and renovation, and resurfacing of streets damaged by heavy vehicle traffic during removal of debris from the World Trade Center.
Here are just some of the highlights of project successes: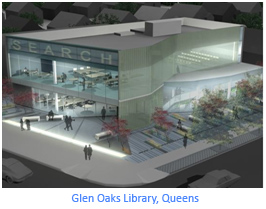 Going for LEED Silver – Glen Oaks Library, Queens (Architect: Marble Fairbanks)
Intended to replace a drab two-story brick building housing the current Glen Oaks library, this modern $13-million glass structure was designed to respect the low-rise character of the surrounding neighborhood while maximizing natural light and allowing the interior to be visible from the street. The Art Commission of the City of New York honored this project with an Excellence in Design award in 2007, and the library is seeking a LEED Silver rating. Read more.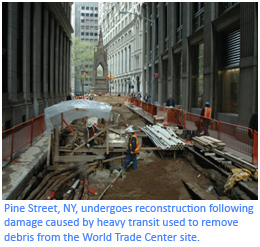 Replacing Streets Damaged by Removal of World Trade Center Debris – Pine Street, Manhattan
Running parallel to Wall Street, Pine Street was a major artery route for heavy transportation used to remove debris from the World Trade Center site after September, 11, 2011.  Having received funds from the Emergency Relief program established to rehabilitate the streets surrounding lower Manhattan, DDC project managed the resurfacing and complete replacement of water mains along Pine Street. Read more.
Reconstructing a Historic New York Landmark – Columbus Circle, Manhattan
A major New York landmark, Columbus Circle is situated at the southwest corner of Central Park and intersects several major thoroughfares including Broadway and West 59th Street. The reconstruction project involved the total rehabilitation of the roadway around the circle to improve traffic flow and pedestrian access to the circular plaza and fountain area. The project occurred while approximately 60,000 cars used the traffic circle daily.
Work at the historic site also included installation of a new fountain, installation of granite curbs and sidewalks, distinctive wooden benches and plantings. This project is the recipient of several awards including New York Construction magazine's 2005 Project of the Year award. Read more.
View more examples of DDC's featured projects here.
All images are courtesy of the NY DDC website.