Now Available – AutoCAD WS for Kindle Fire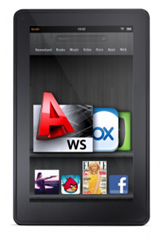 The CAD world is buzzing about the introduction of AutoCAD WS app for the Kindle Fire – now Kindle Fire users can view, edit and share drawings on the go! Released this past December, the app has been the topic of discussion ever since (You can download the app from Amazon).  In fact, since its launch in 2011, there have been over four million downloads of the AutoCAD WS app which is also available for the iPhone, iPad and Android.
Wow!  I'm guessing this would be considered a hot commodity.
Features and Specs
Does the app live up to the hype? It has several features that appeal to its user community. Users can view, edit, and share DWG files on the go, open drawings from email attachments, sync files from the web, or upload drawings from the AutoCAD software. You can also save your drawings on your device and use the app offline.
Availability
If you are interested in taking your design experience to another level, you will find the app in the extensive and highly utilized Amazon App Store. Also, check out the AutoCAD WS Facebook page for customer stories and uploads. If you have the Nook Color or Nook Tablet, you may have to wait a while to download this design masterpiece. In the meantime, check out all of the sites that feature this new product and customer reviews.
Happy designing!
Related Articles
What's in the Next AutoCAD WS Release