Autodesk Suite Tools Spur Cities' Improvements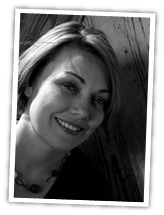 City and county governments are always looking for ways to plan, design, build and manage transportation infrastructure projects smarter, faster and more affordably. And many of them use various Autodesk solutions to make that happen.
With Autodesk Infrastructure Design Suite Premium, local governments have access to a comprehensive civil engineering and transportation infrastructure solution as a single economical and convenient purchase. The suite includes six Autodesk software tools that give municipalities everything they need to plan, design, build and manage road and highway projects in house and on budget.
Here's how these Autodesk tools have helped solve transportation infrastructure challenges for some local governments.
Riviera Beach Saves $30,000
In the engineering department at the city of Riviera Beach, Fla., two employees often manage as many as nine capital improvement projects at once. For several years, the department has hired outside consultants to help get the work done, resulting in ballooning costs for each project and the added complexity of coordinating between the consultants and various city departments. To help save money and allocate its internal resources more effectively, the city adopted AutoCAD Civil 3D software in 2007.  Since then, Riviera Beach has improved productivity and efficiency on numerous projects, helping enable the engineering division to perform previously outsourced work in house.
For instance, in 2010, the division completed a $640,000 reconstruction of 1,340 linear feet on 34th Street in Riviera Beach. The project included replacing all water lines, fire hydrants, sub grade, base rock, pavement, curbsides and sidewalks in the area. City engineers engaged the help of an authorized Autodesk reseller. For a fraction of a consultant's fee, the reseller customized Civil 3D and helped simplify the design process, enabling city engineers to perform more design work in house.
Civil 3D helped department engineers create a high-quality design, accommodating vertical curves on the street and working around unexpected obstacles revealed by the software, such as unforeseen utility line conflicts. "Using Civil 3D, we resolved those conflicts on the fly before releasing construction documents," says Ricardo Wiswell, an engineering technician for the city. "The Civil 3D model helps us work around unexpected obstacles in a better, faster and more comprehensive way."
Using Civil 3D, Riviera Beach completed construction and bid plans for the project 60 days ahead of schedule and saved $30,000 in design fees through increased productivity and efficiency. Wiswell says the department expects to save more money every year and plans to use Civil 3D on many more projects.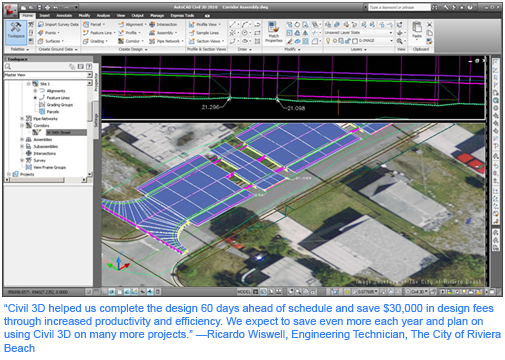 "Civil 3D helped us complete the design 60 days ahead of schedule and save $30,000 in design fees through increased productivity and efficiency. We expect to save even more each year and plan on using Civil 3D on many more projects." —Ricardo Wiswell, Engineering Technician, The City of Riviera Beach
Snohomish County Improves Design Quality
With almost 700 employees and a budget of more than $294 million, public works, which includes engineering services, is the largest department in Snohomish County, Washington. In order to achieve higher levels of design excellence and productivity, the engineering services department adopted AutoCAD Civil 3D software and Autodesk Vault data management software. "Within our division, 55 people use Civil 3D in conjunction with Autodesk Vault," says Brad Hofman, business process analyst.
One particular project in which AutoCAD Civil 3D and Autodesk Vault played a significant role was the reconfiguration of a particularly tricky intersection. The team wanted to improve traffic flow and safety by installing left-turn lanes and adding eight-foot-wide shoulders to accommodate pedestrians and bicyclists. Snohomish County Public Works also wanted to minimize the need to purchase right-of-way on the $650,000 project.
Because the realignment would significantly increase the amount of impervious surface in the surrounding area, the designers had to modify the existing storm drainage system to help ensure that any proposed changes would not negatively impact wetland buffers on the north and northeast sides of the project. "Our plan was to include a pond on-site that would detain stormwater, filter impurities from runoff, and recharge the underground aquifer with clean water," says Sam Therres, senior CAD technician in design.
Using Autodesk tools allowed the team to explore multiple design options quickly. Surveyors collected data in the field, brought it to the office for processing with Civil 3D, and uploaded it to Autodesk Vault, where the designers could access information about the existing ground and features and use it as the basis for preliminary site design. Using traditional design tools, generating and modifying that many options would have taken considerably longer, Therres says.
Autodesk Vault also played an important role in storing design information and facilitating collaboration among various staff members and outside consultants. "Autodesk Vault served as our data warehouse for alignments, profiles, surfaces, and more," says Therres. And it helped us remain confident that we were sharing the most up-to-date and accurate data, and that everyone on the team was looking at the same version."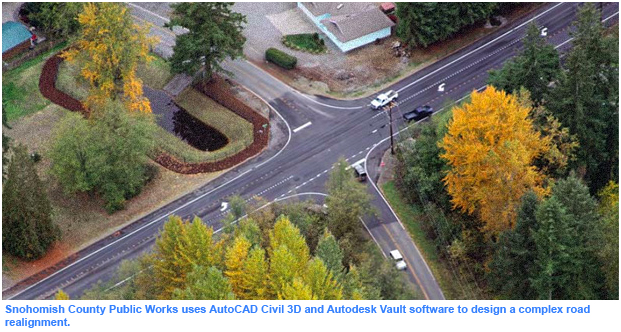 Snohomish County Public Works uses AutoCAD Civil 3D and Autodesk Vault software to design a complex road realignment.
Read more about these projects and other road and highway design projects here.
By Nancy Mann Jackson, Guest Blogger
About the Author
Nancy Mann Jackson is a freelance journalist who writes regularly about local government and sustainability issues. Learn more about her at www.nancyjackson.com.