Executing a Mammoth BIM Implementation with the Help of Trusted 2D to 3D Processes and Student Manpower!
This blog is part four in a series that discusses the challenges and process involved in implementing BIM at The Ohio State University Wexner Medical Center, a project which saw the team win the 2011 [acronym] Magazine Public Sector CAD Award.
Phase 1: Big Bang Implementation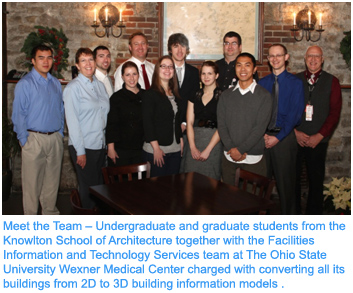 Following the all important completion of Phase 0, we were ready to kick off the actual work of developing Revit-based building information models from our AutoCAD floor plans.  In June of 2011, the implementation process started with two undergraduate architecture students and two graduate architecture students from the Knowlton School of Architecture, along with one undergraduate civil engineering student, all from The Ohio State University.  While their first week included on-site orientation, team building and a project overview, the students quickly became acclimated with the technology they would become expert at during a focused three day training session on Revit Architecture.
This highly customized training, led by Brian Skripac from DesignGroup, was a product of the Standards and Process Development effort and focused on the execution of the newly defined process map and workflow integrations to translate information from 2D to 3D. The students were not only taught how to use Revit Architecture but it was presented in a way that would mimic their everyday use of the software as they began to model the existing facilities. Another benefit to this effort was that the project team was exposed to the wealth of newly created content and "kicked the tires" on how well our processes worked. This allowed us to improve and refine our process to the benefit of the project as a whole. As the training concluded, the students were immediately assigned a building and began the process of developing their first model.
Phase 1 included the development of a basic BIM intended to capture the following elements:
Basic Exterior Wall Construction
Interior Walls & Cubicles
Doors & Windows
Basic Roofs
Basic Plumbing Fixtures
Columns & Column Grids
Basic Floors & Ceilings
Basic Stairs
Rooms & Areas
Following the completion of the first set of models, Brian Skripac conducted a careful audit of each building and documented their adherence to the BIM standard which was presented back to the team as a whole. This allowed the students and full time staff to learn how to create the most accurate and useable models as they continued their work. In addition, this effort provided Tracy, as the BIM Coordinator, a roadmap to audit the rest of the models moving forward. As issues arose during this process, they were identified and the students were provided an opportunity to make the recommended modification and resubmit their models to be shared as a final version.

By the end of the summer, the students logged 2,750 hours, primarily engaged in the model development process.  Our calculated metrics indicated we should have been done with the bulk of modeling effort by this point, but we had only completed about 77% of our buildings, by space.
One of the several factors that increased the amount of time – to accomplish Phase 1, was the students desire to add more detail than we initially planned during Phase 1.  The result of this increased detail was more valuable models.  This affected several aspects of Phase 1:
Instead of using basic windows, most of the BIMs included detailed window families.
The exterior wall construction was accurately reflected, and almost all exterior facing wall details were visualized.
A higher level of focus on accuracy than expected, meaning more time tracking down documentation and performing field verifications.
In addition, during the summer, several high impact projects were brought to our attention.  These projects required us to move students off their BIM development to focus on detailed modeling and renderings of both interior and exterior spaces.  While they slowed down our progress, they provided excellent opportunities for us to show the value and power of BIM to senior leadership, which will be described in future posts.
Lastly, we further developed the Revit files to make information more readily available to the masses who would not be using Revit every day. Additional prototypical and printable view, schedules and sheets were built in requiring more time to update all our models with these changes.  We also required the students to produce several renderings of their buildings to maintain on our online gallery of images, which can be found here.
Once the school year started, the conversion rate slowed down due to reduced hours from the students.  As of March 2012, all buildings have been started, and only two have work remaining (although they are our most challenging buildings).  Based on our current calculations, the development of the BIMs from our AutoCAD floor plans, to the level we developed them, took approximately 0.037 minutes/square foot.  If support staff (management of students, document collection, etc.) is taken into account, the development of the BIMs is closer to 0.055 minutes/square foot.
End User Training
Transitioning to BIM is not primarily a technical challenge, it is culture change.  To aid in the adoption of BIM across the Medical Center, DesignGroup was also tasked with developing and conducting a series of training sessions customized to the specific needs of our varying end user groups.  These training sessions were held at the end of the summer of 2011, when a number of models were available to use.  The hands-on training was broken down as follows:
Engineering and Operations: A three day session covering how to navigate/interact with a Revit model and how to extract information from the model.
Interior Designers and Space Planners: A four day session covering everything from scheduling to views to moving walls and placing families, along with how to create renderings and walkthroughs.
Construction Managers: A half-day session on navigating DWF versions of the Revit model in Autodesk Design Review.
Energy Engineering: A two day session on how to translate the existing Revit models as gbXML files for their use in tools like Autodesk Green Building Studio and eQUEST.
In the next post, we will cover how the Med Center has used the BIMs along with the value that DesignGroup has found in working with the Medical Center on this project.
By Joe Porostosky
About Joe Porostosky

Joe Porostosky is the Senior Manager of Facilities Information and Technology Services at The Ohio State University.  His background in technology management has provided a foundation for utilizing BIM to improve the speed and quality of decision making at OSU. Joe and the team at OSUMC were awarded first prize in the [acronym] Magazine Public Sector CAD Awards in 2011.
About Brian Skripac

Brian Skripac, Assoc. AIA, LEED AP BD+C, is the Director of Building Information Modeling (BIM) at DesignGroup in Columbus, Ohio. A recognized industry leader, he focuses on the integration of digital design technologies into all of the design processes, including sustainability and building lifecycle management. He is frequently solicited by institutions, as well as professional organizations to present his expertise on the value BIM brings to industry.