The Future of BIM at Ohio State's Wexner Medical Center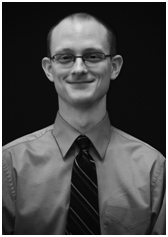 This blog is part six in a series that discusses the challenges and process involved in implementing BIM at The Ohio State University Wexner Medical Center, a project which saw the team win the 2011 [acronym] Magazine Public Sector CAD Award.
In my last post, Brian and I discussed the benefits we both experienced from implementing BIM at Ohio State's Wexner Medical Center.  In this post, I will discuss some of the additional benefits we are expecting to see from our adoption of BIM along with some of our future plans for expansion.
Enhanced Planning Support
Utilizing the newly created models allows our Facility Planners a more robust and communicative method of planning for the future of the Medical Center from a space perspective.  The ability to more easily demonstrate vertical and horizontal adjacencies, along with comparing how space is currently being used to how it will be utilized in the future not only aids in understanding the implications of their plans, but helps communicate those plans to decision makers and customers throughout the Medical Center.
Improved Patient and Visitor Way finding
The building information models will also allow for a more realistic representation of our space. With such a large campus, way finding can be confusing to a new patient or visitor, but the ability for us to now create wall mounted maps with a three dimensional look and feel will certainly improve this effort.  One possibility is to create video walkthroughs using the BIMs that take a patient or visitor from a parking garage to their location, thus familiarizing them with space within the Medical Center and helping them visualize their personalized path to their destination prior to their arrival, helping to improve their overall experience.
Energy Analysis
With Sustainability being a clear goal of every new building and major renovation at Ohio State, we see BIM as yet another way to contribute to this effort. We're always looking for ways to reduce the energy consumption in existing buildings and see BIM as a way for us to quickly extract the needed data for this analysis. Leveraging technologies such as Autodesk Green Building Studio and eQUEST will allow us to analyze different sustainability projects to determine which will provide the greatest return on investment.
Recruitment and Fundraising Tool
Building off the success of our initial project, using BIM to enhance the recognition of a donor, we've found that providing renderings of proposed lab or office spaces can also support the recruitment of new faculty, researchers, and staff.  These renderings can also be used during the process of fundraising to help a potential donor visualize how their recognition might actually appear in the space they are donating to.
Improved Asset Management
Following new construction or major renovations, there is typically significant work to get all the systems of the building into our preventative maintenance system.  If a BIM was provided at the close out of a project, this could potentially speed up that process and increase the accuracy, while also providing the basis for improved asset tracking by connecting to asset management systems.
Capacity Planning and Detour Effects
We are also currently looking into additional technologies that would allow us to analyze our BIMs for people and vehicle capacity analysis, to better understand the effects of a hallway being closed or a street being limited to one lane during a construction process.  This would allow us to better understand, ahead of time, how severe the effects of a closure are going to be, and better prepare for the negative effects of those detours.
Adding Additional Data to Models
As more and more of our internal customers see the value BIM can provide, they are asking for additional data to be added to our models beyond the already robust information defined in Phase 1.  Major building components such as fume hoods, accurate casework, major building systems, signage, and site information are all slated to be added to the models in the coming phases of the project.  These additions will provide a better foundation for the renovation visualizations and space planning decisions I discussed earlier.
In addition, we've purchased a Faro 3-D Laser Scanner in the summer of 2011 to aid in the collection of data.  Thus far, we have utilized it to improve the quality of our new model documentation as compared to our traditional AutoCAD drawings (in buildings were the AutoCAD drawings were especially inaccurate, or didn't exist at all) and have scanned a space that had significant historical value to the University, but was undergoing a complete renovation.   In the future, we plan to use the scanner to rapidly model mechanical spaces in Revit and support the collection of highly accurate "behind-the-wall" conditions during the construction process improving our knowledge of the building once construction is complete.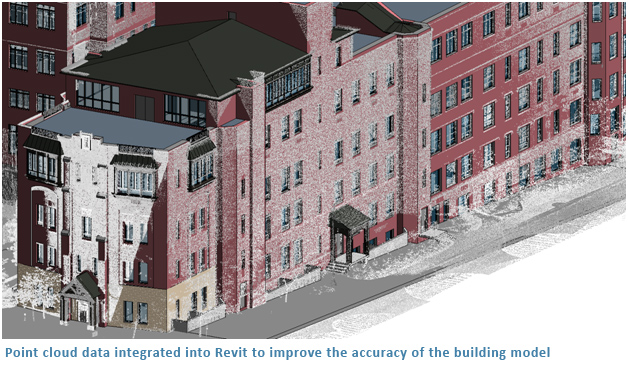 Expanding the BIM Implementation to the Rest of the University
We are currently completing the transition of the last two buildings at the Medical Center to BIM and expect to be done by early summer.  A handful of our buildings have already moved on to Phase 2, which is the addition of fume hoods, some building equipment, catwalks, casework, furniture and basic plumbing fixtures.  But the end of the summer, we plan to have Phase 2 completed for all of our Medical Center buildings.
Recently my team has merged with a similar team at the University and I have been provided leadership of this combined group.  This has allowed us greater influence in the adoption and expansion of BIM across the University.  With this strong understanding of how BIM can aid the University as owners of our buildings, we are working with colleagues throughout Facilities at the University on moving towards BIM supported workflows in our construction process.
In addition, we want to begin making the transition to BIM for existing buildings for the rest of Ohio State.  Our transition efforts at the Medical Center included 53 buildings and 6 million square feet.  The rest of the University includes about 850 buildings and over 30 million additional square feet.  Obviously, our first goal will be to prioritize what buildings will see the most value in developing models for them.  Our collaboration with DesignGroup has had benefits to both our organizations, and we anticipate future possibilities in having DesignGroup continue to support the expansion of BIM across the University.
This project was successful through the excellent teamwork of the Facilities Information and Technology Services team consisting of Joe Porostosky, Dave Pifher, Tracy Palmer, Keri Ours, Okey Tolley, and Peter Pollock.  In addition, our core group of outstanding students who did the bulk of the work, included Sarah Bonser, Liz Schneider, Kyle Wright, Tony Nguyen, and Tyler Kvochick.  Our recent student additions of William Hoover, Cassandra Sampeur, and Tebebe Gebremedhim have accelerated work on Phase 2 of the project.
As we expand our use of BIM at the Medical Center and the University as a whole, and show the value of the models to our various customers, new uses are always being suggested.  We expect that the next couple of years will show the investment we've made in the transition to BIM for existing buildings was a wise investment that will pay back many times over.
By Joe Porostosky
About Joe Porostosky

Joe Porostosky is the Senior Manager of Facilities Information and Technology Services at The Ohio State University.  His background in technology management has provided a foundation for utilizing BIM to improve the speed and quality of decision making at OSU. Joe and the team at OSUMC were awarded first prize in the [acronym] Magazine Public Sector CAD Awards in 2011.
About Brian Skripac

Brian Skripac, Assoc. AIA, LEED AP BD+C, is the Director of Building Information Modeling (BIM) at DesignGroup in Columbus, Ohio. A recognized industry leader, he focuses on the integration of digital design technologies into all of the design processes, including sustainability and building lifecycle management. He is frequently solicited by institutions, as well as professional organizations to present his expertise on the value BIM brings to industry.