How Laser Scanning Helps Save Time and Tax Payer Dollars in the Field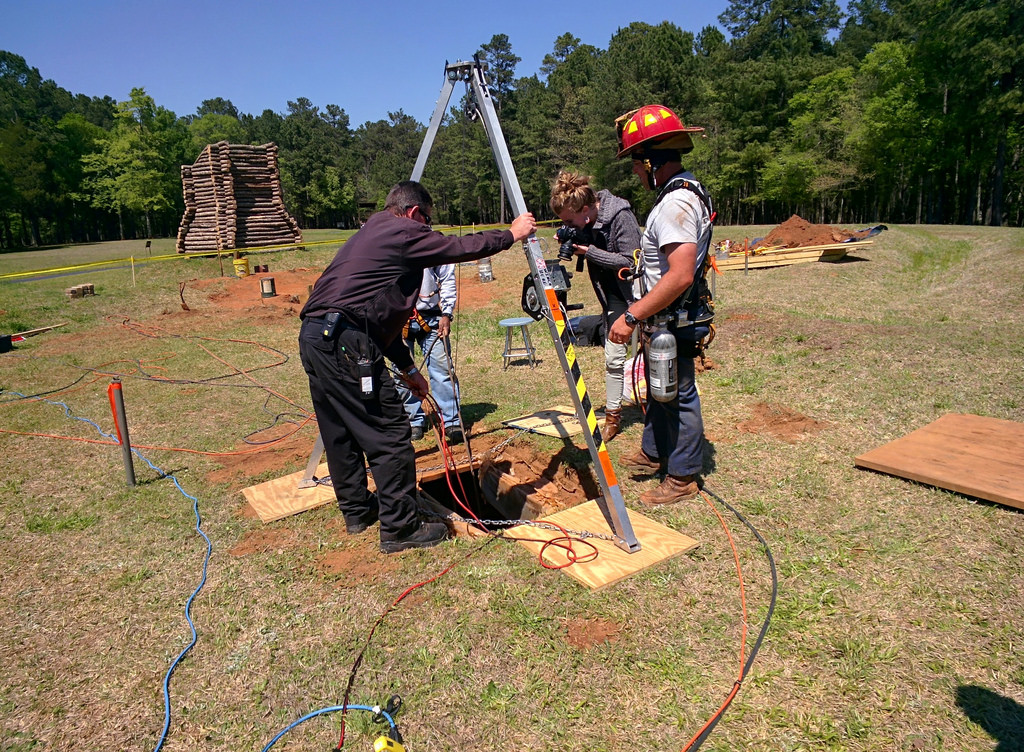 The promise of field-accurate site conditions inside a 3D building information model is becoming a reality on construction sites and in early design discussions, thanks to better software import capabilities and newer, less-expensive field scanning technologies.
We previously discussed prefabrication and how small oranizations can play a key role in coordinating design and construction activities, and laser scanning is a tool that can enable a high level of coordination. Import of a 3D point-cloud into BIM software has become easier to accomplish and more manageable for architects and construction professionals in the field as laser-scanning equipment is both more accurate and cheaper than ever before.
A "scan" is a powerful laser recording of field data that captures a site's shapes and possibly its appearance and converts those conditions into a cloud of data points, which can be uploaded into a 3D BIM. Providence, R.I.-based Gilbane Building Company uses a FARO Focus 3D laser scanner. Counting software and operations training, the bill came in around $60,000, a far cry from the six-figure cost of older scanners, but still a major investment. The cost for a small firm sounds steep up front, but it can pay for itself quickly.
"We've found that laser scanning has a huge barrier to entry in cost, but if you own it, you find use cases for it you otherwise wouldn't have considered," says John Tocci, Jr., director of virtual design and construction at Gilbane. "On one project, 30 minutes of scan time in the field and 30 minutes of post-processing and uploading the point-cloud into a Revit model saved $30,000."
Courtesy of Gilbane Building Company
Tocci says Gilbane has seen savings and major field safety improvements from importing laser scans into Revit models, a process that's become a lot easier in the 2015 versions of Autodesk Revit and AutoCAD with more realistic visualizations and 3D walk-throughs available from point-clouds. Prefabrication and coordination of mechanical, electrical, and plumbing (MEP) systems installation has saved rework money on every project Gilbane has used its scanner on. Prefabrication of ductwork and systems has eliminated field work and stopped what might have been weeks of MEP rough-in activities.
"If someone is telling us from finished floor to underside of beam you have 11-feet, eight inches, we can say, 'no, we have 11 feet even,'" Tocci says.
Gilbane's initial uses—five projects across the U.S. spanning higher-education renovations to work for the National Institutes of Health in Washington, D.C.—have generated such a value add that the company purchased a Faro Focus3D X 330 for its laser-scanning tool kit for long-range outdoor scans.
Courtesy of Gilbane Building Company
The renovation of Kreger Hall at Miami University in Oxford, Ohio, was a case in point. The 85-year-old building is the new home of Miami's Physics Department. When renovations were being discussed, all that Gilbane and the architects had to work with was a hand-drawn set of original plans. Gilbane laser-scanned 50,000 square feet of the building in one day, and Gilbane's VDC staff was able to get accurate measurements for prefabrication, scheduling, and sequencing of the $12 million upgrade that turned the existing building into labs and physics lecture halls. Gilbane was able to drive the entire MEP, structural, and building-coordination activities on the project from a 3D model.
Your network and hardware need to be up to the task to share and upload point-cloud data from a laser scan. Gilbane has a primary server with 3 TB of storage and a secondary server that has 16 TB. Computers with 32 GB of RAM, high-end graphics cards, and solid-state hard drives are also necessary. It's not unusual to have a point-cloud take up more than 200 GB of hard-drive space. To share these data sets, Gilbane's outbound network traffic can generate 65 GB of network activity in a single day.
Does your organization use a laser scanner? How has it helped your workflow? Please share your experiences on the Acronym Facebook or Google+ page.
By Jeff Yoder
[author image="http://www.dlt.com/blog/wp-content/uploads/2014/10/Jeff_Yoders-1.jpeg" ]Jeff Yoders has covered IT, CAD, and BIM for Building Design + Construction, Structural Engineer, and CE News magazines. Jeff has won six American Society of Business Publications Editors awards and was part of the reporting team for the 2012 Jesse H. Neal Award for best subject-related series of stories. [/author]
This article was originally published on Line//Shape//Space, an official Autodesk blog, and is reprinted here with minor modifications and with kind permission. 
photo credit: Alliance for Integrated Spatial Technologies via photopin cc