How Hoteling is Helping People Return to Work Safely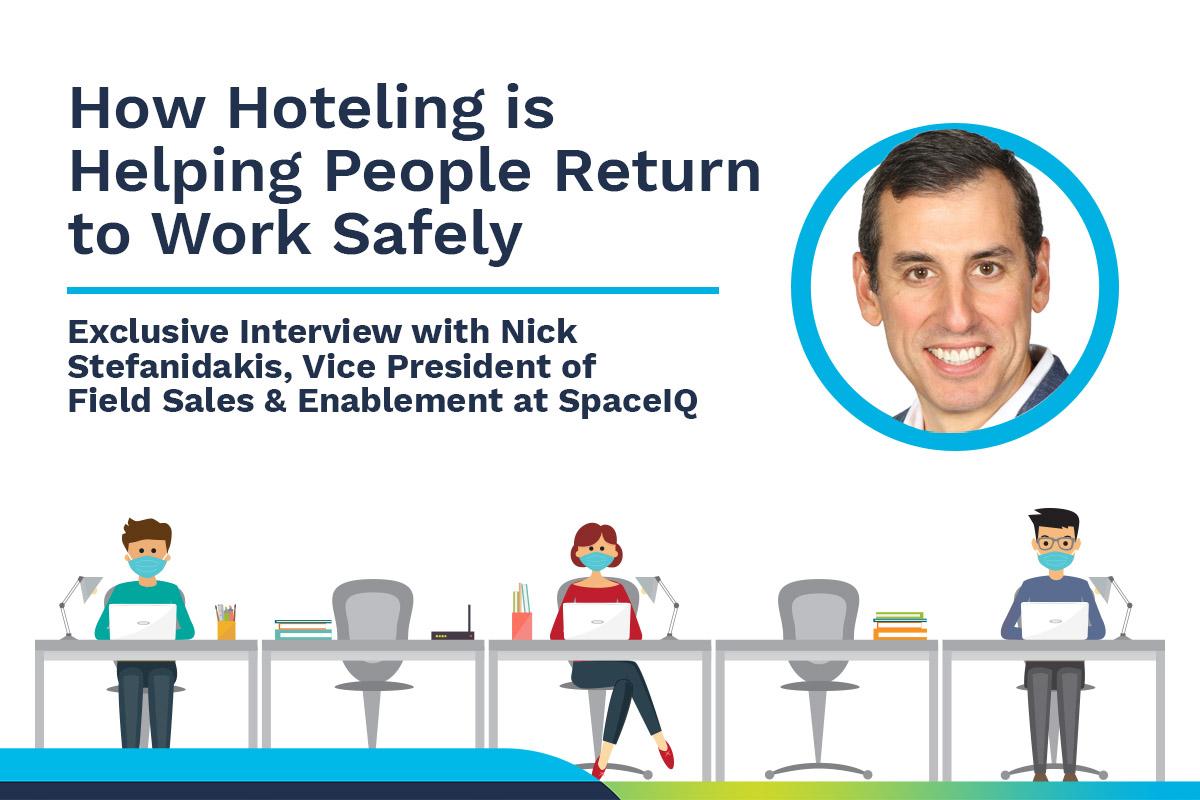 One of the many challenges that organizations faced this year was the scaling of a remote work model. But with the prospect of life and work returning to normal in the coming months, those same organizations face a new challenge – scaling back up their facilities in a safe way.

To learn more about how facilities and space managers are planning for this prospect, I sat down for a Q&A with Nick Stefanidakis, Vice President of Field Sales & Enablement at SpaceIQ.

SpaceIQ is a global leader in workplace management that formed in May 2020 by bringing Archibus, Serraview, and SiQ solutions together under a single brand. Its goal is clear – to help organizations get up and running quickly with tools that eliminate many of the complexities of traditional space management solutions.

Stefanidakis discussed how organizations can leverage data to prepare their facilities and optimize their portfolios in a new hybrid workplace/remote work model.

What are the challenges facing organizations as they prepare for workers to return to the office?

Stefanidakis: As the nation plans to return its workforce to the office, SpaceIQ brings a unique perspective to the built environment that accounts for the fluidity of many different scenarios. Whether working fully in the office or mostly remote, it can be challenging for organizations to figure out what this means for their portfolios and the large amount of currently unoccupied space.

Every conversation I have with a client or prospect is centered on how we can support return to work. It doesn't matter what industry; they're all facing the same issues and asking the same questions: How can we safely bring people back to the office? Which sites should we bring back first? How are we going to do it? Where should we put people when they do return?

How can hoteling or hot desking help?

Stefanidakis: Solutions that support flexible or assigned seating, like hoteling and hot desking, are options that come up often. However, it's important to understand the difference between the two.

Hoteling assigns seats and helps employees return to work as safely as possible. Organizations can also control any overlap so that people are not sitting too close to each other in an open environment on the same day.

Hot desking, on the other hand, is really operated on a first come first serve basis where an employee grabs an available desk. It's not an ideal situation for today's world because it doesn't give facilities teams control over where employees sit or help them focus their cleaning efforts.

How is hoteling better than hot desking from a flexibility standpoint?

Stefanidakis: Hoteling brings more flexibility than traditional hot desking, especially now. A hotel desk offers a greater level of control than traditional hot desking because it can be better directed and monitored using an integrated workplace management system. Archibus, for example, has solutions for managing reservations. It blocks out time and releases spaces depending on availability and deep cleaning processes, which can be automatically scheduled. This is great for facilities teams because they know when a space has been booked and when it needs to be cleaned. That additional control allows organizations to more easily adhere to social distancing standards and optimize cleaning programs based on usage.

What data is collected as part of a hoteling program and how is it used?

Stefanidakis: That's an important question. Because we know who sat where and near whom on a given day, organizations have the data they need for contact tracing. If someone reports that they are unwell, the organization can reach out to potentially exposed employees and enforce quarantine or stay-at-home orders.
The data can also be leveraged for capacity planning. Based on space utilization, facilities managers can apply ratios to determine if and how they can bring more people back to work as the situation improves.

What role will hoteling play in the "new normal" workspace?

Stefanidakis: To be honest, I think it's still a little early to tell. We're starting to see some trends and we have examples of companies that are taking drastic measures, such as cutting back space as quickly as they can. Others are taking a wait and see approach. They don't want to shed space and then incur the additional cost of adding back space when things return to normal. But we're definitely seeing organizations making investments in the right tools so they can have the data and processes in place to help them make informed decisions when the time comes.

Also, it's likely that remote work doesn't go away altogether, which may result in a long-term reduction in portfolios.

What other technologies are organizations adopting to support a return to the workplace?

Stefanidakis: Many of our clients are adding technology to accompany their hoteling strategy. Cameras and occupancy sensors are bringing new value. But we're also seeing a push to improve energy management by understanding building occupancy, isolating floors, and reducing HVAC utilization in those areas. Using real-time data, these trends become much easier to understand.

Learn more about Archibus' back to work solutions, including hoteling.