For too many enterprises, digital transformation is being held back by the fragmented nature of a hybrid IT environment. OneLogin breaks down that barrier, centralizing access to on-prem and cloud apps. OneLogin's Unified Access Management (UAM) platform makes it simple and secure for users to access the apps and data they need, anytime, everywhere. For more information, visit www.onelogin.com.
OneLogin, the leader in Unified Access Management, connects people with technology through a simple and secure login, empowering organizations to access the world™. The OneLogin Unified Access Management (UAM) platform is the key to unlocking the apps, devices, and data that drive productivity and facilitate collaboration. OneLogin serves businesses and partners across a multitude of industries, with over 2,500 customers worldwide. We are headquartered in San Francisco, California.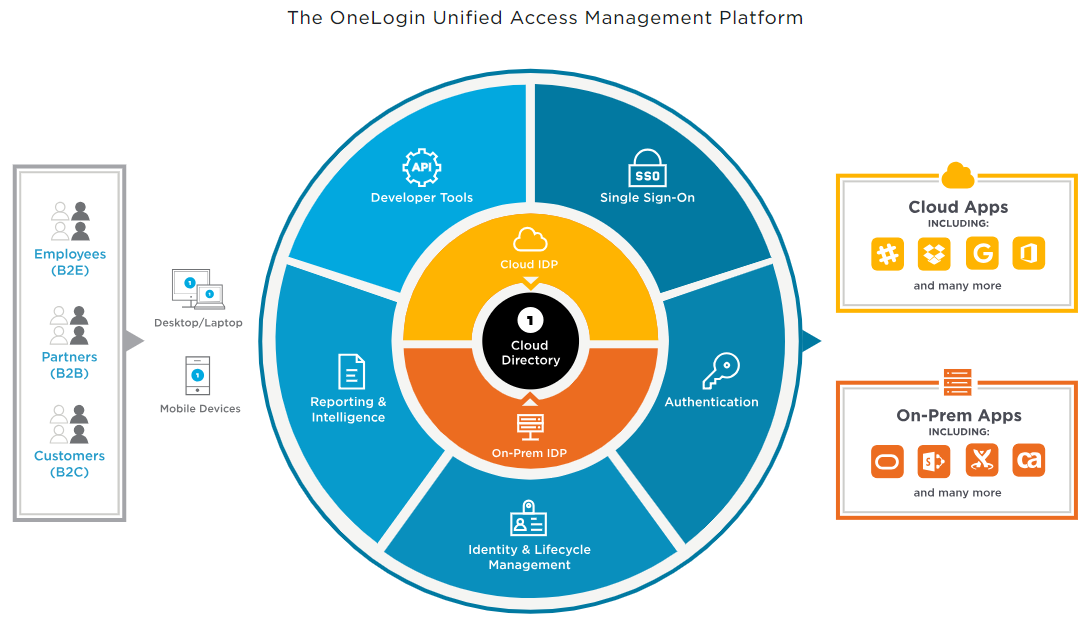 Identity and Lifecycle Management
With OneLogin's identity management, provision users easily and automate onboarding/offboarding. Connectors integrate OneLogin with your on-prem and cloud directories with real-time synchronization.
​Streamline entitlements through powerful rules to enforce intelligent access policies based on user location, role, privilege level, and more.
Reporting and Intelligence
Stay compliant with sophisticated reporting and a centralized audit trail. The information you need to meet compliance requirements or assess cyber threats is at your fingertips. No more coordinating with multiple systems and people for reports. OneLogin's dashboard is supplemented by a state-of-the-art reporting engine for drilling down to users, apps, and events.
Developer Tools
An identity solution that isn't extensible isn't a scalable solution. Built to be developer-first, OneLogin's API is based on RESTful principles, secured by OAuth 2.0, and provides JSON messages, search, pagination, sorting, and filtering. With OneLogin, you can integrate your custom apps and third-party apps, and extend the system to fit your workflows.