Contract Number:
Group A: NNG15SC07B; Group D: NNG15SC98B
Period of Performance:
May 01, 2015 - April 30, 2025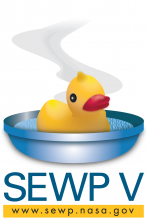 Looking for an easy, service-driven way to buy the technology and services that your agency needs?
DLT has been awarded not one but two SEWP V, IDIQ/fixed-firm price contracts. Now agencies and their supporting contractors have an easier way to procure a wide variety of technology solutions and services – backed by the operational excellence and fast, flexible and responsive service you'd expect from DLT.
About DLT's SEWP V Contract
With an effective date of May 1, 2015, DLT Solutions provides a wide variety of technology solutions under Group A (NNG15SC07B) and Group D (NNG15SC98B) of the NASA Solutions for Enterprise-Wide Procurement (SEWP V) Contracts.
All the awards are for firm-fixed-price, indefinite-delivery/indefinite-quantity contracts (IDIQs). Each contract will have an effective ordering period of 10 years, consisting of one five-year base period starting May 1, 2015 to April 30, 2020 and one option (May 1, 2020 to April 30, 2025)
Learn More and Request a Quote
To learn more about the products and services DLT provides on its SEWP V contracts or to obtain a quote, please call our experts on 800.262.4358, email SEWPV@dlt.com, or fax 866.708.6867.
For more information about SEWP V, visit www.sewp.nasa.gov.
Contract and Ordering Information
SEWP V Contracts NNG15SC07B (GROUP A) and NNG15SC98B (GROUP D) are part of a multi-award Government-Wide Acquisition Contact (GWAC).
For information about ordering DLT products and services on SEWP V, download the Ordering Guide. Customers must submit orders to the SEWP PMO via email sewporders@sewp.nasa.gov or FAX orders to (301)286-0317.
The following fair opportunity clause applies:
Market Research: According to Federal Acquisition Regulations, (FAR) Part 10, appropriate market research based on the size and complexity of the acquisition is required.
Fair Opportunity: FAR 16.505(b) (1) provides that each contractor shall be given fair opportunity to be considered for each order exceeding $3,000 and issued under multiple award contracts. The FAR states that the method to obtain fair opportunity is at the discretion of the CO and that the CO must document the rationale for placement and price of each order. The SEWP online QRT tool is the recommended method to assist in this activity and to augment the required decision documentation. The SEWP QRT tool will automatically include the Contract Holders within a selected Group or based on a suggested source.
NOTE: Fair Opportunity to all Contract Holders within one or more SEWP Groups is required. There is no requirement to obtain 3 quotes as long as all Contract Holders within a Group were provided the opportunity to provide a quote.
Best Value: Once market research is completed, the end-user's needs, technical requirements, Contract Holder program performance, price, agency policy and other factors related to the exercise of sound business judgment should be considered in making a best value determination.
Policy and Procedural Information
The following policy and procedural information reflect the terms and conditions of DLT's contract with SEWP:
Installation
The Government may order computer systems, software, components, and other equipment with no installation. Customers will be ad­vised regarding impact of self-implementation on terms of warranty support. Support Services (Training & Documentation, Maintenance, Warranty, and Licensing, Service Restrictions) may be purchased provided that all offered services are FFP and directly support the equipment and shall not exceed 5% of the price of the purchase order.
Basic Warranty
As an Authorized IT reseller, DLT offers commercial warranty period. Commercial warranty plans are available as part of the product or as a stand-alone extended warranty coverage. DLT offers the Government with warranty equivalent to our OEM's commercial warranty offerings in terms of response time, principal period of service. At a minimum, warranty will be offered in one year increments with the following coverage: five days a week (Monday through Friday) and for eight (8) hours a day during business hours, with a next day response time.
Extended Warranty


Extended Warranty can be purchased and begin at any time during the standard commercial warranty period up to and including the end of the commercial warranty period. Extended warranty packages may be invoiced and paid at the start of the warranty period. This extended warranty shall provide coverage based on the standard commercial warranty. At the Government's discretion, the Government may order, at any time during a warranty period, monthly maintenance at a Discounted Monthly Extended Warranty amount in lieu of the extended warranty.

Product and Software maintenance, warranty and licensing shall be treated as commercial product unless such product is priced on a usage basis. Software maintenance as a Product includes the publishing of bug/defect fixes via patches and updates/upgrades in function and technology to maintain the operability and usability of the software product. Software Maintenance as a product does NOT include the creation, design, implementation, integration, etc. of a software package. These examples are considered software maintenance as a service and are to be billed monthly.

Technical Support
DLT shall provide a full complement of technical support services including a)Timely nondisclosure briefings on emerging technologies relevant to SEWP, b) Commercially available technical specifications, either on-line or in hard-copy form, for all base system components, with such documents for all products available on DLT's SEWP contract available by request, c) Continuous adherence to any relevant Government, NASA, and Goddard security requirements.
Software Support
SEWP customers may contact us to:
Request product information to prepare a quote request
Request information about installation, warranty, software support and technical support*
Address any post-delivery issues
SEWP customers may contact SEWPV@dlt.com to:
Request product information to prepare a quote request
Request information about installation, warranty, software support and technical support!
Address any post-delivery issues
*Installation, basic and extended warranty, technical support and software support vary by manufacturer. Please contact the individual listed above for specific product information.
How to Contact SEWP
SEWP Customer Support Center
https://support.sewp.nasa.gov/

Through SEWP Customer Support Center, you can:
Communicate with the SEWP Program Office LIVE via instant messaging.
Submit a service ticket to our Customer Service Representatives.
Track the status of your ticket in My SEWP Support.
Browse or search our Frequently Asked Questions (FAQs) for a wide variety of solutions
Browse our library of forms and documents
Helpline: (301) 286-1478
help@sewp.nasa.gov
For any unresolved issues, problematic orders, or post-delivery issues, please contact DLT's SEWP Contracts Program Office:
Michael Bekampis
800.262.4DLT (4358)
ProgramManagement@dlt.com