TD SYNNEX Public Sector has a team of expert engineers and solutions architects who deliver IT design, implementation, and support services. We add value to our products by providing presales engineering, project management, and service delivery, as well as, providing a US-citizen, US-soil 24x7 Service Center. Our portfolio of services includes products from Google, Amazon, NetApp, Veritas, Oracle, Red Hat, Quantum, and Symantec. We also offer experts in cloud computing, and data security and management.
Our sales engineers are multi-disciplined, multi-brand certified experts. In a constantly changing IT landscape, they guide you through technical sales by evaluating your current IT infrastructure and advising you on ways to align new technologies with your strategy. They will also help you conceptualize solutions that utilize technologies that fit your environment.
Customer Consultancy
Let our engineers work with you to assess your current IT environment. Using your strategic direction and their analysis, they help you envision and achieve your desired goals within the confines of your infrastructure. Work with our experts to develop road maps and strategies to determine effective next steps.
Education & Adoption
In addition to identifying best-fit technologies, our engineers can advise and mentor your staff on how best to use these technologies in your environments. Through pilots and proof of concept implementations, our engineers test new technologies in your environment. Providing demonstrations of tools ensures successful deployment and uptake are keys to long-term integration and return on IT investments.

As an AWS Managed Service Provider, TD SYNNEX Public Sector provides our customers with the ability to rapidly procure IT services, scale up or down as needed and release when finished, resulting in the perfect mix of cost savings, improved service deliverability, and increased productivity for your agency. This unique service supports the entire life cycle of services for the AWS platform. From design and implementation to management and support, we offer a unique "train-mentor-deliver" approach that guarantees rapid customer adoption and maximum self-efficiency.
TD SYNNEX Public Sector also provides our AWS customers with ongoing managed services after implementation, including support, monitoring, and maintenance, to ensure continuity and consistency within your cloud environment.
Our Managed Services suite includes:
TD SYNNEX Public Sector engineers provide the following monitoring services in support of our customers' cloud platforms:
Platform/Instance Monitoring:

Monitoring AWS platform
Monitoring Instances

Thresholds/Alerting
Monthly Availability Report
CloudWatch Spend Alarms
As part of TD SYNNEX Public Sector's end-to-end managed services, our engineers provide the following managed services:
All features from the Monitor tier
Technical Account Manager
OS Performance and Reporting
Monthly OS Patching
OS Security Patching (as needed)
AMI Creation & Management
System Snapshots
CloudTrails Configuration
System Log Management
CloudWatch Log Aggregation
Weekly Change Advisory Board Participation
IAM Policy Management
Monthly Best Practices Review
Change Logging
This higher end, customized offering allows customers to take advantage of TD SYNNEX Public Sector's engineering skill set beyond the AWS infrastructure layer. This specific offering is tailored to each customers need, but can include such features as:
All features from the Monitor and Manage tiers
Intrusion Detection Service (IDS)
Security Log Monitoring
Web Application Firewall (WAF)
Anti-Virus / Malware protection
Ticket System Integration
Database/NoSQL Services Support (basic management/support)
Application Support (basic management/support)
Authority to Operate (ATO) Support Services
Compliance Services
Testimonials

Fu Associates, Ltd. is the developer and maintainer for a .gov web application hosted in the AWS East FedRAMP cloud services provider environment. TD SYNNEX Public Sector provided architectural support for the creation of a DHHS ATO Cloud Hosting Facility and has provided AWS Managed Services Provider support since 2014. Over the ensuing five years, the application has experienced better than 99% uptime, and on the rare occasions when outages have occurred, TD SYNNEX Public Sector Managed Services has been very quick to respond with real-time human recovery support. In addition, during that period of time the website passed all NIST and FISMA regulatory and compliance requirements without issue.
Case Study: North Attleboro Electric Department – GIS
NAED is a state and local public sector government agency that supports residents of North Attleborough Massachusetts. NAED specializes in using science and technology to research energy generation through wind, solar, nuclear, and hydro. Another core commitment is applying technology to advanced metering infrastructure and electrical vehicle charging stations. NAED's Geographic Information System has been used for many years to help this team uncover insights from location data, map layering, and 3D modeling to accomplish their ongoing efforts to provide services to the community and work toward their objectives
FEMA Refactors & Modernizes Its Infrastructure for a Cloud Environment Case Study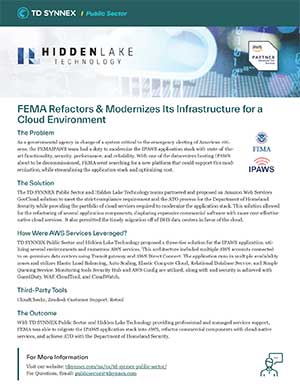 The TD SYNNEX Public Sector and Hidden Lake Technology teams partnered and proposed an Amazon Web Services Gov-Cloud solution to meet the strict compliance requirements and the ATO process for the Department of Homeland Security while providing the portfolio of cloud services required to modernize the application stack.

The TD SYNNEX Public Sector Operations Center is an unrivaled customer advantage that delivers U.S.-citizen, U.S.-soil, ITAR-compliant technical support, 24x7x365. A public sector-focused, certified technical support engineer will always answer your call live and within ten seconds. Our engineers provide expertise for Veritas, NetApp, Quantum, Amazon Web Services, and Google Apps. The TD SYNNEX Public Sector Operations Center provides industry leading managed services and technical support, as evidenced by a 98.2 percent closure rate without escalation, and an annual average customer satisfaction rating of 9.8 (based on a 10 point scale.)
We work closely with our partners to offer you the best technical support. As a result, we are a NetApp Authorized Service Partner (ASP), NetApp CSP Partner – Professional Services Partner, Quantum First-Call Partner, Google Premier Partner, and Amazon Web Services Premier Consulting Partner.
The TD SYNNEX Public Sector Innovation Center leverages the company's more than two decades of government industry engineering experience. It will showcase DLT innovations and strategic technology solutions from its leading partners in the areas of Cybersecurity, Cloud Computing, Application Lifecycle, Business Applications and IT Infrastructure.
Recent TD SYNNEX Public Sector innovations include the first-ever public sector deployment of Veritas Enterprise Vault on an AWS platform which allows customers to deploy an email archive solution in the cloud.
The TD SYNNEX Public Sector Innovation Center also offers customers the ability to test products in real-time to see first-hand how new software version releases will support and impact their mission.