Shortcutting the Geocoding Process for Easy Data Search and Visualization (on the fly)!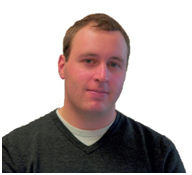 The steady pace of innovation in geospatial visualization has given rise to a new problem: the need to geocode increasing quantities of data and the corresponding need to manage and search this data.  In this article, I am going to discuss a new way to bring data into geospatial environments and a new way to search and manage this data.
A popular maxim in the geospatial community is "80% of all data contains geospatial information" (or something to that effect).  True or not it is certainly the case that a great deal of information can be geocoded and, more importantly, that having this information geocoded, that is to say, visible on a map, can be of value to decision makers.
Let us assume for the moment that we have solved that first problem.  We have managed to geocode the data that is so essential to public sector agencies.  How then do we manage this new volume of data?  Traditional geospatial visualization solutions provide rudimentary search and management capabilities.  These capabilities match the amount of data these solutions are typically tasked with.  If, however, we are to task our visualization platforms with new data, in formats we have not traditionally managed in the past, we will require a more robust search and management capability.
These problems hit me some time ago while flying from Washington, D.C. to San Francisco, watching Virgin America's Google Maps screen display our present position.  It happened to be on the ground at Dulles, how useful, I thought, would a piece of data describing the nature and likely duration of the delay be?  The problem led me to an obvious, but tricky conclusion, why not take the leading search solution (Google) and the leading visualization solution (Google) and mate the capabilities?
Logical, elegant, and, I thought, useful.  The problem had been mentioned to me by friends at Google, and friends and colleagues who deal with geospatial data every day.  The missing piece was a way to geocode search results that did not have existing geospatial metadata.  Towards that end Reperio Concepts built our geocode engine.  The engine parses data and identifies characteristics that can be geocoded.  It then geocodes these results and tags the original item with metadata.  This process occurs "on the fly" or, more accurately, at serve time.  This means that you do not need to have pre-geocoded your data in order to find and see it in Earth.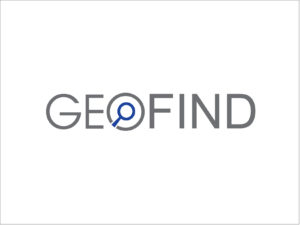 Several revisions later, GeoFind was born.  GeoFind solves both problems; by leveraging the Google Search Appliance to feed data from virtually anywhere and provide highly relevant searches on that data, and by taking advantage of the powerful visualization capabilities of Google Earth we are able to provide the user with fast, relevant, geocoded results to their questions.
Put another way, you do not need to have your data prepared for use in a geospatial environment, GeoFind lets you ask the question, trusts the Google Search Appliance for the answer, manages the geocoding, and presents that answer to you inside Google Earth or Google Maps.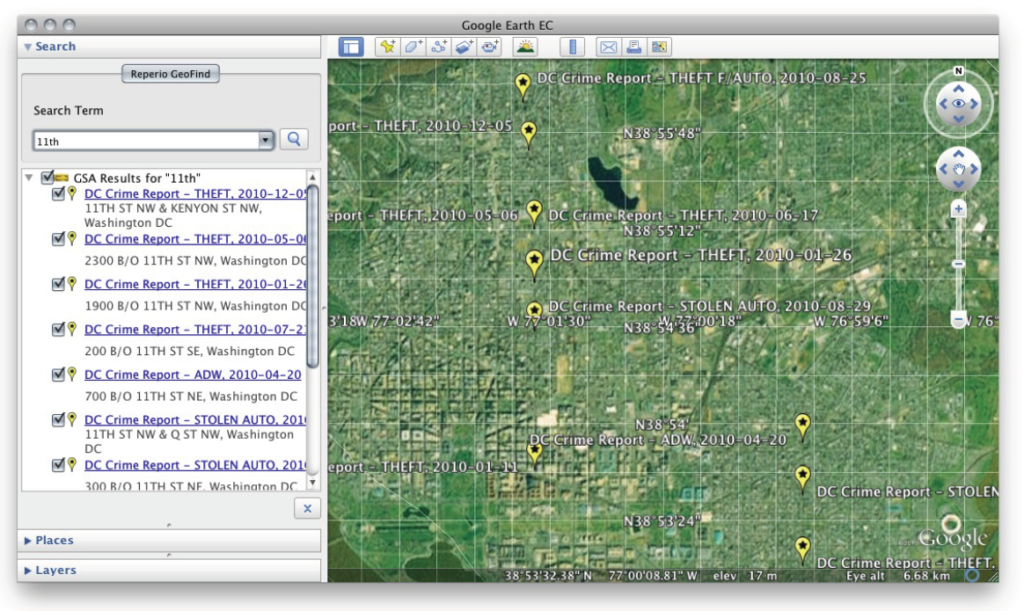 Figure 1 GeoFind Screenshot
This blog was written by guest blogger, Eliot Danner, Principal of Reperio Concepts
About Eliot Danner
Eliot Danner is the Principal of Reperio Concepts, a Google Enterprise Partner focused on Enterprise Search and Geospatial Solutions.  He has several years of experience with public and private sector clients designing and delivering complex solutions across a wide range of platforms. Eliot focuses his talents on creating and implementing cutting edge technologies and solution designs that offer powerful technical and business intuition, which has provide great value to his work with customers including the Department of Justice, the Department of Homeland Security, the Department of Treasury, and the Department of Defense.