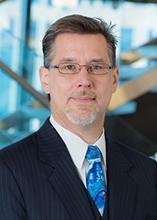 David Blankenhorn joined DLT Solutions in early 2011 as the Chief Cloud Technologist. Today, David serves as the Chief Technology Officer. As the leader of the Office of the CTO, David and his team drive the DLT portfolio strategy and messaging, assist customers and partners with the rapidly evolving technology landscape, and provide market intelligence to our vendors and partners.
As an executive with a proven record of leadership and business execution within professional and managed services, David applies his extensive experience to assisting public and private customers with IT strategy, design, delivery, and management. His expertise lies in Cloud Technologies, Virtualization, Data Center Optimization, and IT Service Management.
David began his career as a System Administrator on a Defense Data Network (DDN) contract before moving into multiple executive positions in the industry at various value added reseller companies. He pulls from a diverse set of experiences across different aspects of the information technology landscape including manufacturing, system integrators, value added resellers, and aggregation. Prior to joining DLT, he spent more than a decade at Sun Microsystems where he was a Chief Technologist, Principal Engineer, and Global Manager in the Professional Services and Advanced Services divisions.