David Blankenhorn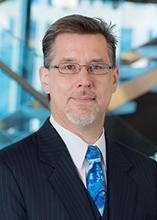 David Blankenhorn joined DLT Solutions in early 2011 as the Chief Cloud Technologist. Today, David is the Chief Technology Officer, leading the pre-sales engineers and solution architects. David's team assists government customers with the adoption of technologies by providing architectural and technical direction and by aiding in the selection of products and services.
As an executive with a proven record of leadership and business execution within professional and managed services, David brings more than 20 years of extensive experience assisting public and private customers with IT strategy, design, delivery, and management. His expertise lies in Cloud Technologies, Virtualization, Data Center Consolidation, and IT Service Management.
David has worked for a diverse set of companies. He started his career as a System Administrator on a Defense Data Network (DDN) contract before moving on to executive positions at a number of value added resellers. Recently, he spent more than a decade at Sun Microsystems where he was a Principal Engineer, Chief Technologist and Global Manager in the Professional Services and Advanced Services divisions.