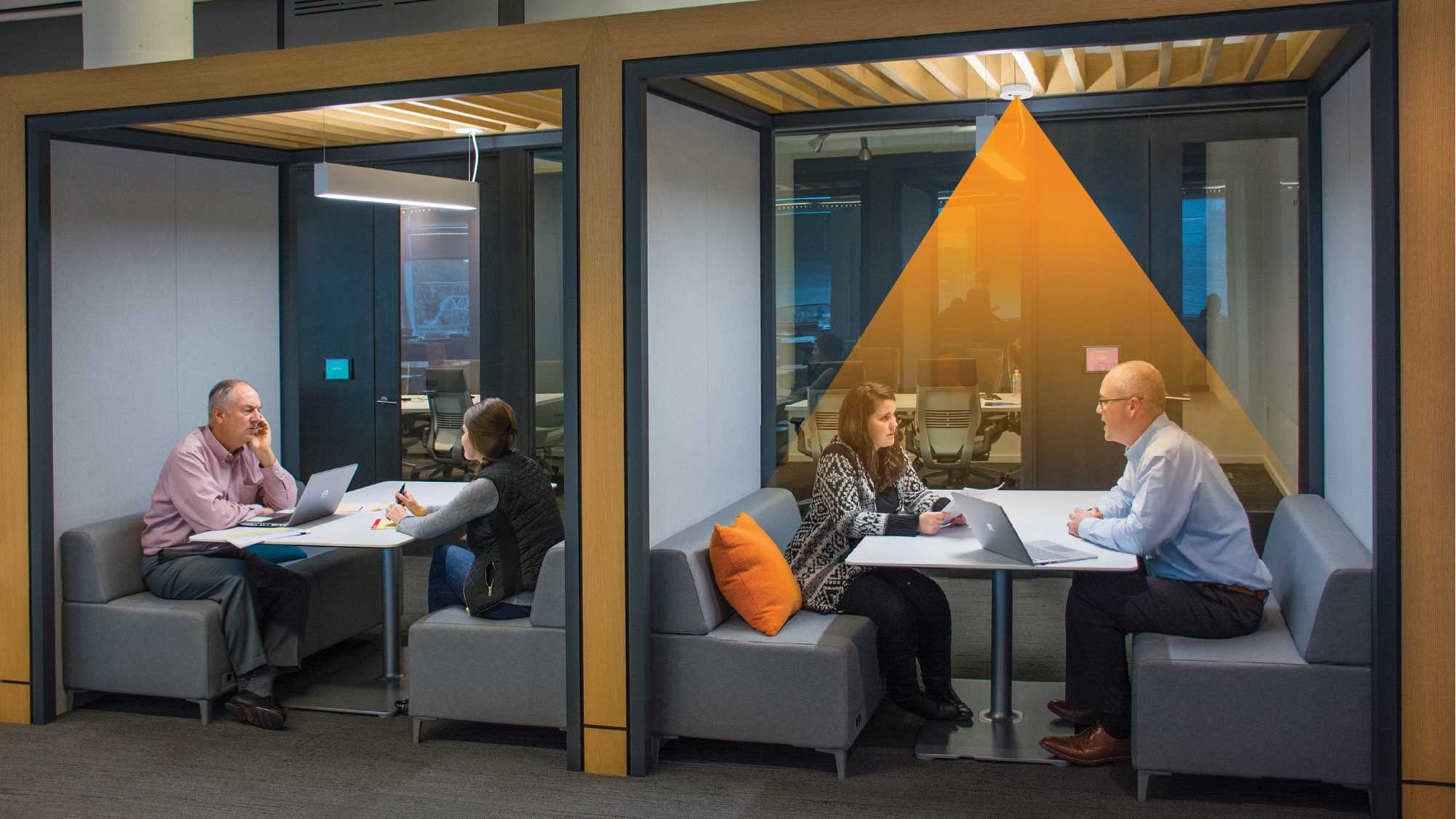 AVUITY was founded in 2012 as a part of an architecture and design firm headquartered in Cincinnati, OH. Initially functioning as the data-driven technology arm of the firm, AVUITY was able to leverage the insight-led design background of the partnership to develop hardware and software that not only measures workplace usage, but apply work trends, spatial understanding, and design thinking into the company's core competencies.
With the release of VuSensor, VuBook, and later VuAI, AVUITY quickly grew into an industry leader in manufacturing both sensor hardware and the software needed to compile, digest, and manage key analytics for clients across the globe. AVUITY has since grown beyond the initial data-focused subsidiary into a fully independent technology firm, expanding to meet our clients' needs. We strive to innovate so that we may support others in understanding their spaces, achieve workplace strategy goals, and improve employee experience.
Occupancy Sensors

A Next-Generation Sensor to Bring AI to the Workplace
This cutting-edge wireless device uses Machine Learning (ML) and Artificial Intelligence (AI) to not only measure human occupancy, but also help determine how people interact with the space and objects around them. VuAI constantly learns from other deployed sensors as the more data is gathered, the richer its recognition capability becomes. Our sensors send real-time data to VuSpace to make understanding your space easier than ever.
Find and secure space that suits your needs
In today's work environment, employees are more mobile than ever. VuBook leverages digital displays and a mobile app to allow end-users to locate and book unoccupied space on the fly by pulling data from both sensors and your existing calendar platform.
Measuring and managing your space has never been easier
VuSpace is a web-based application that collects your occupancy data and allows you to access meaningful reports, analytics, and manage the hardware deployed across your organization. Whether you're looking to better understand your workplace utilization trends, run a report on average meeting room occupancy, or visualize a real-time heatmap — VuSpace is here to help.
Extend the Benefits of the Avuity Portfolio to Your Entire Team
Search for space based on calendar availability or current occupancy based on sensor readings.
Filter by building, floor, amenities, and more to find the perfect space to suit your desired environment and work mode.
Sign out of spaces to free them up for others and initiate a cleaning.
Visualize your floorplan and space availability to aid users in leveraging your mobile work strategy.
What is a Space Booking System?
A space booking system/platform manages and maximizes the use of workspaces through reservation software. Employees can reserve an available space, empowering them to work at any open slot rather than one permanent desk. Office spaces include not only desks but also cubicles, workstations, conference rooms, coworking spaces, car parking spaces, collaboration spaces, and private offices. Companies are beginning to realize that space booking is an efficient way to maximize space and employee happiness and productivity.
Space booking is part of a larger set of flexible work arrangements. Flexibility gives employees greater freedom to choose their own work schedules, office locations, and even seating arrangements. Implementing flexible work arrangements like desk sharing (which uses space booking technology) rewards your employees with a greater work-life balance.
What is Space Utilization?
Space utilization is how effectively you're using the workspace. Space utilization is important because it affects people's work itself. Ask yourself if employees have enough space to comfortably complete their work or if they have the appropriate spaces to complete it. If the answer is no, then employees' quality of work may suffer. By measuring space utilization, your company can plan for growth, understand facility costs, and prevent workplace conflict. You will gain a thorough understanding of your company's office space and how to maximize ROI. Optimizing space utilization will transform your company into a highly productive market player (see "ACHIEVE PEAK REAL ESTATE OPTIMIZATION WITH VUSPACE" for more on space utilization metrics).
What Is an Office Sensor Platform?
Sensors are powerful devices that can collect data on workspace utilization and behaviors. They can determine how many people are in a room, whether people are occupying a certain spot like a desk, and whether a person comes into a room. An office sensor platform is a sensor and its signal processing hardware paired with software to interpret the data. The hardware can be either in the same package or separate from the actual sensor with processing done locally or in the cloud. An office sensor platform is essentially a space utilization platform because it typically reports on space utilization metrics.
The Value of Workplace Analytics
Analytics is invaluable to the world of business. From sales to marketing to accounting and beyond, every business function needs data to understand successes and failures. But studying analytics doesn't have to be confined to specific departments or activities. In fact, analytics is useful for understanding an entire company, how its employees operate, and what makes them succeed. This is called workplace analytics.
Sorry. There no results for your search at this time.