IBM Cloud Pak® for Watson AIOps is an AIOps platform that deploys advanced, explainable AI across the ITOps toolchain so you can confidently assess, diagnose and resolve incidents across mission-critical workloads.
If you're looking for IBM Netcool® Operations Insight or any previous IBM IT management offerings, IBM Cloud Pak for Watson AIOps is the evolution of your current entitlement.
The IBM Cloud Pak for Watson AIOps response when there is an incident:
Pulls from Various IT Platforms: IBM Cloud Pak for Watson AIOps monitors incoming data feeds including logs, metrics, alerts, topologies and tickets, highlighting potential problems across incoming data, based on trained machine learning models.
Powered by AI and Natural Language Processing: An insight layer connects the dots between structured and unstructured data, using leading AI and natural language processing technologies from IBM Research®. This allows the IT team to quickly understand the nature of the incident.
Communicates Through Team ChatOps: IBM Cloud Pak for Watson AIOps feeds insights into the team's collaboration tools, which means they can seamlessly access data and next best actions in coordination to address the incident.
Provides Trust and Transparency: Armed with accurate and trustworthy recommendations, the team moves forward with confidence in the diagnosis of IT system problems and the identification and prioritization of the best path to resolution.
Rapid Resolution: Time and money have been saved thanks to out-of-the-box productivity to enable automation and utilize pretrained models.
A "similar issue feature" from past incidents allows public sector IT teams to get services back online, fast.
The future of AI allows you to access insights that translate into innovation and gives you the ability to see what's ahead, and ultimately avoid incidents and outages.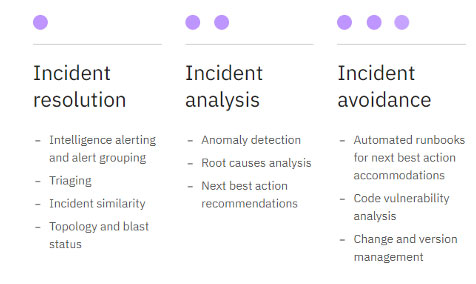 Watch this video to learn how your agency or organization can leverage IBM Cloud Pak® for Watson AIOps for rapid resolution of IT incidents.