Contract Number:
Refer to individual contracts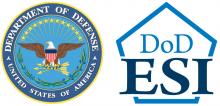 The Department of Defense Enterprise Software Initiative (ESI) program is designed to offer DoD customers with discounts based off of GSA Schedule Contract pricing through negotiated Blanket Purchase Agreements (BPA). All awarded ESI BPA's are the Department of Defenses preferred method of IT procurement in accordance with the Defense Federal Acquisition Regulation Supplement (DFARS) Section 208.74.
Authorized Users: Each ESI BPA is open for ordering by all DoD components. DoD component is defined as: the Office of the Secretary of Defense (OSD), the military departments, the Chairman of the Joint Chiefs of Staff, the combatant commands, the Inspector General of the DoD, the Defense agencies, the DoD field activities, the U. S. Coast Guard, North Atlantic Treaty Organization, the Intelligence Community, and foreign military sales with a Letter of Authorization. GSA or other applicable ordering organizations/agencies are authorized to place orders under this BPA on behalf of DoD end users and must comply with DFARS 208.7400. This BPA is also open to DoD contractors authorized to order in accordance with the FAR Part 51.
DLT Solutions has been awarded the following DoD ESI BPAs and are currently available for IT product and service procurements:
The ESI logo/marking is used with permission. ESI procedures are explained in DFARS 208.74 and DoD CIO Guidance and Policy memorandum No. 12-8430 dated July 26, 2000.