2023 Higher Education Technology Outlook and Over the Horizon Opportunities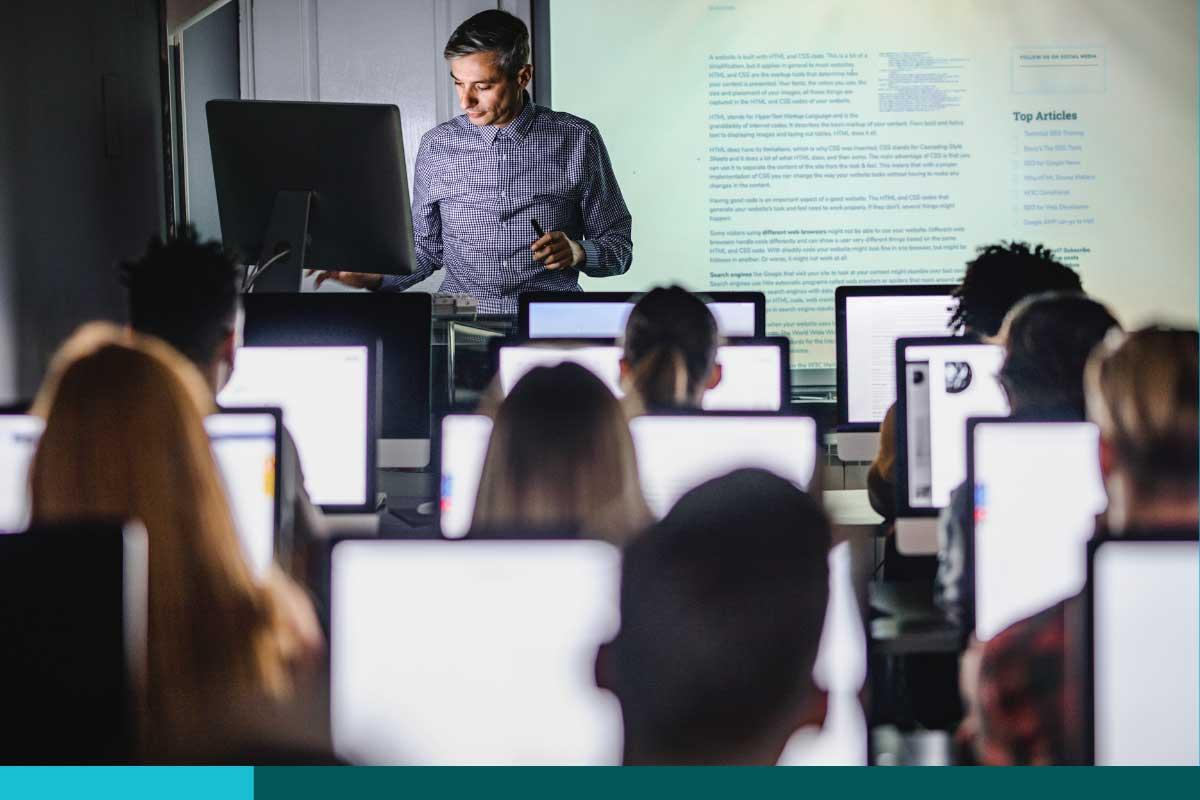 This year's EDUCAUSE Annual Conference highlighted trends and challenges currently dictating not only policy agendas but also information technology (IT) acquisitions for years to come. In particular, the conference referenced the EDUCAUSE Horizon Report, which addressed key technology trends and priorities impacting IT buying decisions and more generally, the future of teaching and learning.
FY23 Top Priorities
It may come as no surprise that the number one priority cited is the "increasing need for data security and protection against threats to personal privacy," as both data and security have become a pivotal driver for institutional operations and strategy. Under data management and governance, data and analytics have become an integral component of educational technology (EdTech) functions, as institutional leaders strive to enhance the learner experience following the COVID-19 pandemic.
Data Privacy
Higher education agencies are emphasizing frameworks that safeguard data and protect against the continually rising security threats we are facing nationwide. Data privacy issues are now working in tandem with data security. Institutions are being asked to support decisions with data while many existing data infrastructures are antiquated. Unfortunately, institutions are still struggling to implement proper data governance practices. Data is and will continue to become a top driver in institutional research and student success, driving acceleration for both faculty and students. In terms of technology acquisitions, institutional cybersecurity investments will be paramount, as designing in a way that encourages resilience and bolsters overall security will produce the necessary framework for tackling data privacy issues.
Data Security and Protection
Educational institutions are hot targets for cyber criminals and are receptive to solutions that better allow them to anticipate and respond to threats. As a result, they are shifting towards "by design" approaches by embedding privacy and security into the front end of technology design. With increased adoption of cloud solutions, accompanying risks must be addressed, and data minimization needs be applied whenever possible. Therefore, higher education buyers are looking to invest in solutions specializing in sound security measures such as keeping operating systems up to date, requiring multifactor authentication, encryption and cloud backup processes.
Hybrid/Remote Work
Another priority from the Educause Horizon Report is the "continued adoption and normalization of hybrid and remote work." The trend towards remote and hybrid work reduces the need for higher education operations to be rooted in a physical presence and their overall approach to IT strategy and governance to evolve.
The creation of a hybrid work culture has paved the way for a flexible and resilient approach to education and learning. IT buyers at these institutions recognize that cloud adoption supports this transformation, and a learning-enabled technology strategy will require interoperable and sustainable systems.
Governance Models and the Enterprise Approach
As with state and local governments, the role of the higher education CIO is pivoting from a strict management paradigm to one focusing on broad oversight across many priority areas. Shared governance models are delineating the path towards digital transformation, striving to answer the question of how to leverage technology while taking all other strategic processes into account. When introducing new technologies, keep in mind that this holistic governance model will require acquisitions that work in tandem with one another and create desirable results for institutional leaders, technology professionals, and students alike.
There are many technology trends paving the way for the next decade of learning that present ample opportunities for technology vendors. The days of siloed infrastructure and applications are long gone, and we can expect continued focus on tools and solutions that support interoperability, fluidity between the virtual, digital, and physical world, high powered and quantum computing to bridge gaps in complexity, new academic models that provide skills training to students, and 5G capabilities that bolster reliability and efficiency in educational delivery.
Traditional campus models are being replaced with online models, with some universities creating virtual campuses to provide wider access to high quality and affordable education. Machine learning is helping generate automatic recommendations for course selection, following the shift from an industry-driven academic model to the learner centric model, with data analytics to help address individualized student preferences and needs. All these technologies are helping to carve out diverse pathways for students and give an enhanced student experience.
In Conclusion
Success selling IT across the higher education landscape will be dependent on being able to recognize the individuality of your customers' needs, given the diverse higher education landscape. Today's higher education IT buyer will be looking for enhanced flexibility and scale, process equity and diversity, and progress through innovation. It will be up to you to recognize the individual needs of each institution and tailor your product or solution to fit those needs. Despite educational institutions being slow (and usually last) to implement change, finding ways to align your technology to meet the core values of education in today's modern environment will serve you well.
About the Author:
Yvonne Maffia is the senior analyst on the TD SYNNEX Public Sector Market Insights team covering State and Local trends across the Public Sector.