NASPO ValuePoint Cloud Multi-State Multi-Vendor IDIQ
Period of Performance:
September 30, 2016 - September 15, 2026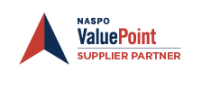 About NASPO ValuePoint:
The contract covers a full range of cloud solutions that help public entities quickly access the benefits of reliable and secure cloud services for use to serve residents. The award covers all software as a service (SaaS), infrastructure as a service (IaaS), and platform as a service (PaaS) models as defined by the National Institute of Standards and Technology. The multi-state cloud acquisition offers an unparalleled range of choices to help state and local governments improve IT service delivery through reliable and secure cloud-based solutions. This new cloud solutions marketplace represents a major leap forward in enabling governments to partner with cloud providers to more effectively deliver services to citizens.
Specifically designed for government cloud acquisition, the contract uses the Cloud Security Alliance's Consensus Assessments Initiative Questionnaire (CAIQ), Cloud Controls Matrix (CCM) and the Security Trust and Assurance Registry to help states assess security and data controls in cloud applications. This contract meets a critical need within the government sector by providing a mechanism for state and local governments to leverage cloud solutions and ensure that potential cloud vendors meet data security and protection requirements.
Eligibility - Who can use this contract? As permitted by individual State laws and regulations, every public agency, institute of higher education, political subdivisions and in some states, non-profit organizations may participate.
Learn More and Request a Quote
To learn more about the products and services DLT provides on its NASPO ValuePoint Cloud contract (AR2480) or to obtain a quote, please call 800.262.4358, or email cloud-sales@dlt.com or fax 866.708.6867.
For any unresolved issues, problematic orders, or post-delivery issues, please contact DLT's Contract Program Office:
Adam Pritchard
Program Manager
Tel: 800.262.4DLT (4358)
Email: programmanagement@dlt.com
Participating States:
NASPO-AK: NVP-2018-CLOUD-0004
NASPO-CA: 7-17-70-40-09
NASPO-CT: 18PSX0210
NASPO-FL: 43230000-NASPO-16-ACS
NASPO-HI: 17-18
NASPO-MO: CT170457021
NASPO-NM: 80-000-18-00046BE
NASPO-UT: AR2480
NASPO-VA: VA-180816-DLT
NASPO-VT: 38722
NASPO-WA: 05116
NASPO-WY: 226288
Services: SaaS, IaaS, & PaaS
Term: 9/30/2016 - 9/15/2026
Benefits: Master agreement includes pre-negotiated NASPO ValuePoint terms and conditions and vendor terms and conditions – this is intended to lessen the burden on participating states when signing a Participating Addendum.
What sets NASPO ValuePoint apart from other purchasing cooperatives?
The NASPO ValuePoint purchasing cooperative program is led by State Procurement Officers from member States elected by their peers. In contrast to many other purchasing cooperatives, NASPO ValuePoint is considered a "pure" cooperative. A multi-state team of procurement and subject matter experts cooperate in the creation of the solicitation, which is conducted by a lead state, in full compliance with that state's laws and procedures, including public notice requirements. NASPO ValuePoint Purchasing Cooperative Organization awards no contracts, but rather assists the states in their collaboration on solicitations and the resulting contracts. NASPO ValuePoint contracts are among the most successful and highest volume contracts in the US with administrative fees significantly lower than other cooperatives. With the purchasing leverage of all 50 states, NASPO ValuePoint contracts consistently offer better contracts at lower costs. NASPO ValuePoint contracts are benchmarked and audited by third party professionals to ensure best-in-class pricing as well as superior terms and conditions. Aside from great prices and reduced administrative costs, you can rest assured that all NASPO ValuePoint contracts meet the highest standards of transparency and competition inherent in state procurement laws.
What are the NASPO ValuePoint membership fees?
NASPO ValuePoint charges no membership fees.
What is the fee to use a NASPO ValuePoint contract?
There are no fees to use NASPO ValuePoint contracts.