Exclusive Interview: Iron Bow CTO Discusses DOD Cyber Challenges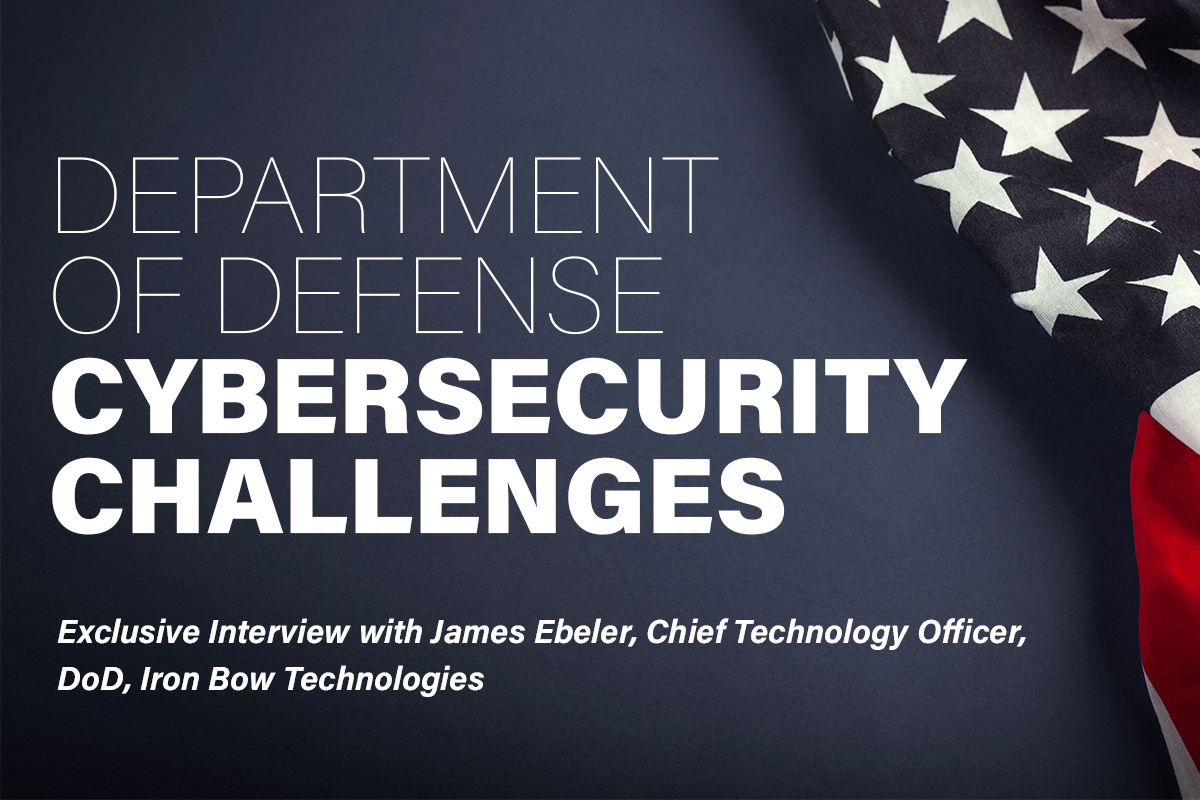 This month, DLT sat down with James Ebeler, the Chief Technology Officer, Department of Defense, for Iron Bow Technologies. In this interview, James discusses the cybersecurity challenges facing our military and how Iron Bow is helping solve them with innovative solutions.
DLT: Good morning, James. Thanks for joining us today for this interview.
James: Good morning, happy to be here.
DLT: Fantastic, let's dive right in. First, can you tell us about your role at Iron Bow Technologies?
James: Of course. I am the Chief Technology Officer for the Department of Defense (DoD) team at Iron Bow where I look at new technologies and figure out how they can work together to fill current gaps in the DoD to meet client requirements.
DLT: In your opinion, what are the current technology gaps facing the DoD?
James: Within DoD, there are a couple of current gaps. First, I would say as they modernize their network there are many technology gaps. One is how does DoD keep pace with the latest and greatest software and hardware technologies. Software-defined networking is one of the latest modernization capabilities that would support DoD as it relates to the enterprise. There may have been some pilot programs here and there, but no adoption has been implemented enterprise-wide. Cybersecurity is always a big challenge facing the DoD, whether it is securing the endpoint, securing mobile applications or whether it is just securing the network. I would say a third gap facing the DoD is the increase of the mobile workforce. How do you ensure that all capabilities and resources are available 24/7 no matter where the customer or warfighter is located?
DLT: Let's talk a little bit more about the mobile workforce and mobile warfighter. With mobility obviously comes increased risk and data vulnerability. How is the DoD addressing this challenge?
James: I think as the DoD progresses more toward increased mobility, working with industry and new technologies/capabilities, they will be able to mitigate some of those security risks
DLT: Is there a specific cybersecurity challenge that the DoD is facing currently that Iron Bow has been able to help solve?
James: Of course. One of Iron Bow's goals when it relates to the DoD and specifically the Army and National Guard is its Bring Your Own Device (BYOD) Initiative. We are currently on a team that is in the process of implementing BYOD and are looking to see if it will have a bigger play in other DoD services.
As you know, the National Guard trains one weekend per month. Having the ability to leverage their own device and take classes while not in that environment allows them to stay up to date on trainings on a .mil network. This ensures that during their one weekend a month training, the focus will be on critical material and core competencies. What this really allows them to do is focus on big-ticket items, not day-to-day activities that can hinder the development of the warfighter.
DLT: So in essence, by enabling soldiers to take training on their own devices, you are giving them the tools to better protect this country. Let's look down the road and imagine the DoD completely buys-in to this program – what does that look like?
James: I think the long-term impact of this program is giving the DoD the capability for any soldier, anywhere, to be able to easily access resources. I imagine a commander in garrison being able to command his or her soldiers from afar. By making mission data more accessible, we are empowering our warfighters to have the most accurate information so they can make critical informed decisions – even in a constrained environment.
DLT: Some may argue that today, the power of a nation's military is probably not best assessed in terms of brute force or manpower, but instead on their ability to leverage data. What do you think about that?
James: Yes, as we continue to become a leaner, more agile, flexible force, one thing that we must focus on is all the data that we are receiving. How are we analyzing that data and ensuring that it is "true" data? There are some new cybersecurity technologies that are coming out that will help us with that. At Iron Bow, we are already starting to talk with the DoD about how they can leverage those technologies to get the most out of the ever-increasing amount of data.
DLT: Interesting. Are there any specific cybersecurity technologies that are addressing this data challenge that you are excited about?
James: The first thing that comes to mind is obviously Artificial Intelligence (AI). When you start to dissect AI, machine learning and deep learning, I think the deep learning portion is going to allow us to really understand and ensure that our data is correct.
Also, things like hardware encryption currently play a pivotal role and will continue to do so, in the BYOD path. Hardware encryptions will allow networks to recognize end-user devices that can be on the network. Perhaps more importantly, it can also identify devices that are ­not supposed to be on the network. This type of capability is really going to take off in the near future.
DLT: We've talked about the future – but how about right now? What current challenges is the DoD facing that can be addressed by some of these emerging technologies?
James: The big thing right now is obviously the cloud, and I think AI, machine learning and deep learning have some very real present-day applications to challenges with cloud. Within government, people have been starting to dip their toes in cloud, but no one has truly "jumped in" except with public-facing resources. I think this hesitancy has a lot to do with security concerns. Without seeing the real-world application of some of these emerging technologies, it is hard for government agencies like those in the DoD to adopt cloud solutions due to the sensitivity of the data. When government starts to see industries like banking, which also deals with incredibly sensitive data on a large scale, adopt solutions that leverage AI, I believe the transformation will begin to happen more rapidly. Will it happen in the next year? Maybe not – but we are moving in the right direction.
DLT: Is there anything else you are currently working on at Iron Bow that you would like to share?
James: Yes, I'm very excited at the success of Iron Bow's Commercial Solutions for Classified (CSfC) program. We have gotten some pretty good traction in the DoD with our solution set and how that can help eliminate TACLANES, COMSEC and protected distribution systems by leveraging the current network a little differently. We can do this on-premise for the DoD as they get more comfortable with the new technology, but the solutions are built to be able to scale as the DoD increasingly moves to the cloud.
DLT: So you are meeting them where they currently are, but can also help them transition to the cloud – very exciting. Is there anything else Iron Bow is doing to help the DoD's transition to the cloud?
James: Yes, it is called IronTarget™, our reference architecture, a hybrid cloud solution that can operate on-prem or in the cloud and allows agencies to take their legacy applications and move them into a secure cloud environment without having to make the decision on whether they need to rewrite those applications. It buys them valuable time and flexibility to have some things on-prem and off-prem—and that really represents the value-add of Iron Bow.
DLT: How has your experience in the military helped you prepare for your role at Iron Bow?
James: I am proud to say I just retired one year ago from the Army after 25 years where I made the rank of Chief Warrant Officer 5. I held leadership positions at the tactical and command levels and finished my career at the Pentagon as the Chief Technology Officer CIO/G6. Now at Iron Bow, I can have a clear understanding of the needs of the clients – because not long ago I was the client.