Speed with a Safety Net - DLT's Secure Software Factory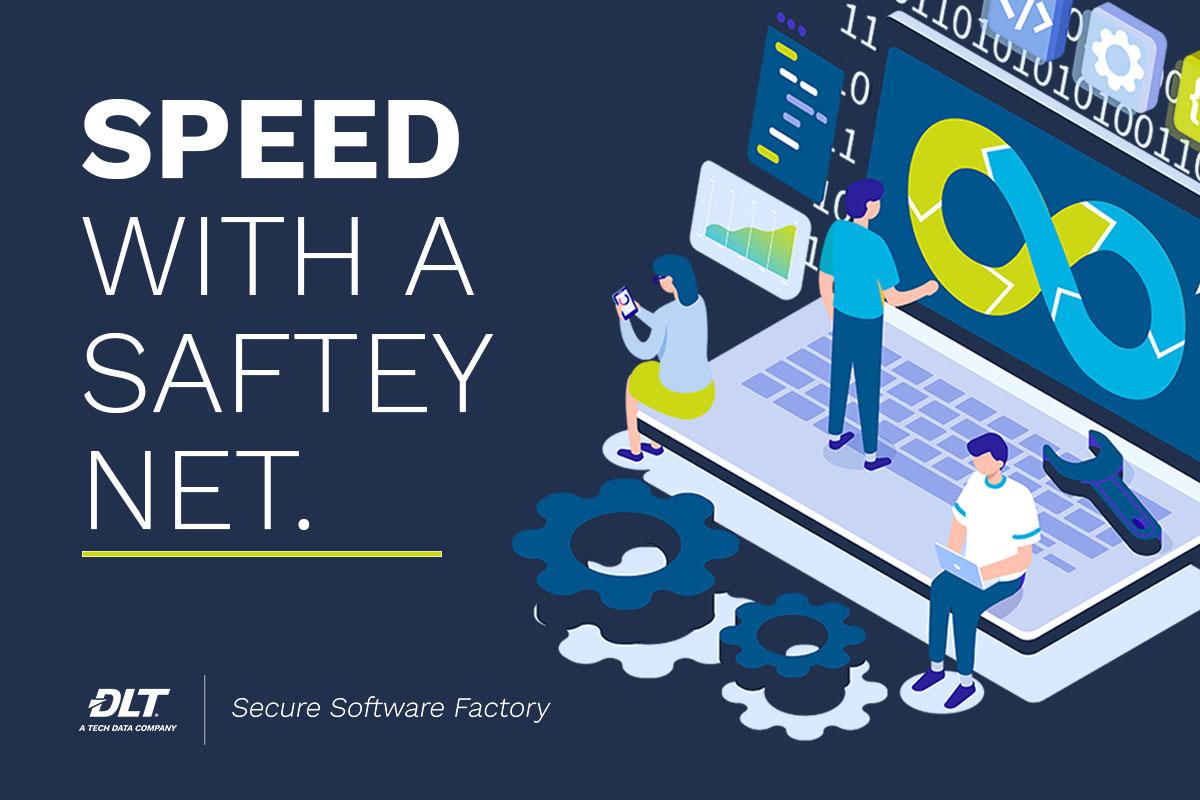 Many subject matter experts will tell you that DevSecOps is primarily a cultural transformation issue as opposed to a technology problem. While a true statement, the right technologies can help expedite that transformation given a vision of what your agency wants to achieve through automation. For example, can you optimally perform your mission without adopting innovation as a factor when trying to predict the best tools to use in your DevSecOps shop? Nothing hinders an agencies' morale more negatively than selecting a clunky antiquated tool or inserting an error-prone manual process to do mundane, repetitive tasks.
Furthermore, we often see lists of DevSecOps technology choices that leave teams in a state of analysis paralysis, due based upon the myriad choices and the unknown integration hurdles. Today's software development practices rely on streamlined integration of modern technologies and techniques to quickly deliver high quality, portable, resilient, and secure applications and services to their stakeholders.
DLT's Secure Software Factory (SSF) provides a framework of innovative, best of breed, platforms and tools that allow an agency to plan, build, test, deploy, release, and monitor deployed services in a continuous manner that injects security controls early and often in the life cycle and monitors its health once in production. The DLT SSF also provides the right trace-ability in order to measure effectiveness and conformance to requirements. In addition, the DLT SSF detects any defects or vulnerabilities in any stage of its life cycle so that it can be remedied quickly. Activity artifacts are also captured continuously so that appropriate stakeholders can review past, existing, or future release enhancements - which can be assessed to ensure mission goals are on target or can be adjusted in an agile manner.
From idea to production, DLT's SSF allows software development, IT Operations, and security teams to utilize a single platform to collaborate, communicate, develop, and deliver their workloads quickly at the speed their stakeholders desire, and perhaps expect; but with guard rails that assist them with rectifying issues early in the development process before they become tragedies in production. Utilizing technologies that employ Artificial Intelligence and Machine Learning, DLT's SSF can shorten cycle times by focusing on the most important quality controls without trying to gain speed by skipping important testing or scanning activities.
Most importantly, DLT's SSF provides observability to metrics related to all aspects of an application's lifecycle so that continuous improvement activities can be implemented by your DevSecOps teams. As more applications of various languages, or micro-service architectures, are implemented; organizations are finding it imperative to have visibility into an application's life cycle as they are each on their own release cycle and should be deployed on need, not dependent on one another.
Want to learn more about DLT's Secure Software Factory, or DevSecOps in general? Stop by our booth at WEST 2020 for multiple demos featuring leading software manufacturers.