2020 Cloud Trends for the Public Sector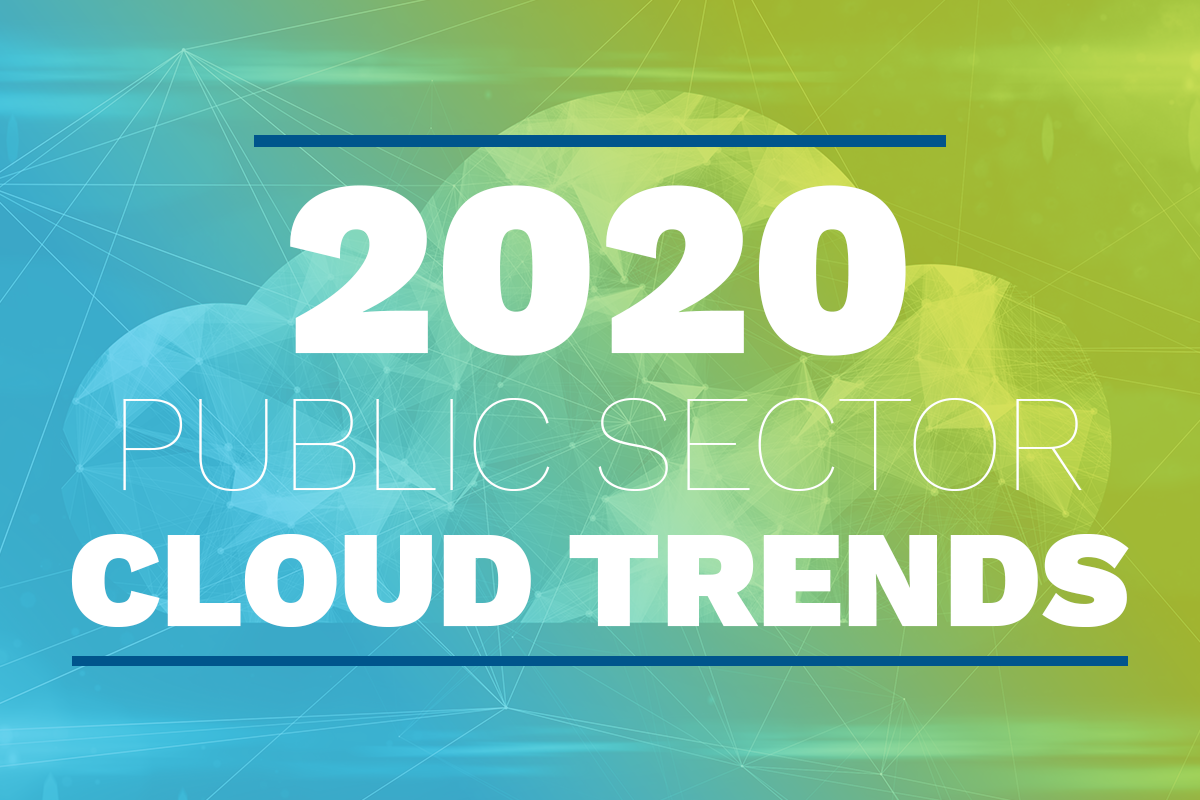 Hot off the heels of last week's Amazon Web Services re:Invent conference, we sat down with DLT's Chief Technology Officer, David Blankenhorn, to discuss the current state of the Cloud and what drivers will fuel more innovation and adoption for the U.S. public sector in 2020.
There have been a few big agenda items for the cloud community to digest this year – what is the current state of U.S. public sector cloud adoption and usage?
This year a few big things happened with the Cloud in the U.S. public sector. The federal government released its Cloud Smart policy, a tactical revision to the 2010 Cloud First policy. The new Cloud Smart policy focuses on the three key influencers of successful Cloud adoption and integration: security, procurement and workforce. This strategy is meant to guide an "interdisciplinary approach to IT modernization that the federal enterprise needs in order to provide improved return on its investments, enhanced security and higher quality services to the American people."
Another interesting focal point this year was in acquisitions – specifically Department of Defense (DoD) acquisitions. The first – and soon to be re-solicited – acquisition was for the DoD's $7.6 Billion (yes, Billion) Defense Enterprise Office Solutions (DEOS) contract awarded to General Dynamics for the implementation of Microsoft's Office 365. This award was successfully protested, so expect version two to hit the streets in early 2020. The DEOS award was soon eclipsed by the Pentagon's equally contentious $10 Billion Joint Enterprise Defense Infrastructure (JEDI) contract that was awarded directly to Microsoft in late October following a showdown and lengthy legal battle between key Cloud service providers including Amazon Web Services, Microsoft, IBM, Google and Oracle. Of course, even though it has been awarded, there is still at least one pending lawsuit.
Both the new guidance that came out this year and these very large contracts for cloud computing indicate to me that the U.S. public sector has finally moved on from the basic debate of whether "to Cloud or not." Rather, the focus this year has clearly been on determining the best way to make enterprise moves to the Cloud, determining best strategy to support the mission and working on some of the nuances of security in a cloud age.
How will the evolution hybrid cloud and Hybrid Architectures affect the public sector in 2020?
Hybrid cloud refers to when an organization uses some combination or public cloud services (such as Amazon Web Services, Google Cloud, Oracle, Microsoft's Azure or another cloud service provider) and, often, their own private IT services or Clouds (where on-premise hardware and compute services are managed by the organization). In the earlier days of public cloud infrastructure, there was lots of talk of Cloud homogeneity or the "one cloud to rule them all" approach. Fortunately, this conversation has changed and even the talking points of the larger public cloud providers have acknowledged that hybrid is the natural evolution of IT. Agencies and organizations are realizing the strengths of different CSPs and are optimizing their cloud strategy and architectures with a maturity we haven't previously seen (but certainly needed).
I imagine in 2020 the U.S. public sector will be focusing on tackling the challenges relating to modern hybrid cloud architectures and how best to design IT services to run efficiently no matter the workload; provide for seamless integration between operating systems and multiple cloud environments; and create one unified platform encompassing the various on-premise and public clouds an organization may be utilizing. There is no right answer here – to architect for performance, efficiency and security, agencies must thoroughly understand the technology and tools available to them, and figure out the most effective way to build, deploy and manage their infrastructure.
How can a Zero-Trust approach make the Cloud more secure and what do we expect from the U.S. public sector in 2020?
In the era of cyber criminals and inevitable cyberattacks, security is one of the most important ongoing considerations. Zero-Trust is a strategy whereby trust by default is removed – applying not only to external sources but also to internal users and applications. This policy of least-privileged access with strict access control measures has always been a good idea but what does this mean with the complexities of the Cloud?
A zero-trust cloud architecture requires an organization to identify their most critical and valuable applications, data and assets that make up a "protect surface." Unlike the vast "attack surface" (which can be ever-changing and ever-expanding), the protect surface is a comparably smaller group of assets, data or applications – making it easier to protect from vicious attacks. From there, a company should identify and map traffic sources and build a zero-trust security model around the protect surface and implement a policy to uphold the architecture. As the Cloud is ever-transforming, monitoring, upholding, evaluating and re-evaluating the protect surface should be a constant.
The motto here? Never trust, always verify (and then verify again). Architecting a zero-trust environment will mean the U.S. public sector isn't throwing budget dollars at cybersecurity models only to fall prey to another cyber-attack – it requires a smart policy protecting the most valuable items in the Cloud, with cybersecurity tools as an added (and necessary) layer of protection from inevitable attacks.
How will the Cloud impact the deployment of ML/AI, especially when it comes to analyzing data to make accurate predictions?
First, there was the Stone Age, Bronze Age and Iron Age, a few millennia of technological innovation in between, and now: the Age of Data. A report by IDC estimated that, by 2020, there will be more than 40 trillion gigabytes of data in existence, yet much of that data remains uninterpreted and thus meaningless. Enter artificial intelligence and machine learning (ML/AI).
AI/ML, once thought to equate to a Terminator-esque end to humanity, allows governments and agencies of all sizes to quickly and effectively digest terabytes of data resulting in meaningful conclusions, accurate predictions, forecast models, and they can ultimately help governments serve and protect their citizens. The compute power required to operate such learning systems, however, has previously been a limiting factor – requiring more budget than is often allocated to such projects, and the skills to leverage this technology is scarce.
The Cloud can be the answer to helping governments harness AI/ML in 2020. Where on-premise data centers are often costly and constrained in compute and storage, the Cloud has seemingly limitless compute and storage capabilities with tremendous agility and elasticity. Cloud solutions providers (CSP) are pouring funding into research and development to be the first master of AI/ML in the cloud community, leaving the U.S. public sector to reap the benefits. There are also more new AI/ML vendors than ever, and they are also ensuring that their models and software can take advantage of cloud infrastructure. We've finally reached an age in which the compute infrastructure is able to realize the promise of AI/ML from the 1970s.
There's still a long way to go before we're able to predict opioid crises before it happen, or apply deep learning methodology to assist healthcare professionals or prevent crime before it happens. However, the technology is allowing us to track the supply chain and distribution of opioids, assist healthcare professionals with more accurate analysis of X-rays and MRIs, and aid law enforcement with fraud detection crowd control and investigations. This AI/ML on cloud platforms will continue to be a driver of meaningful innovation in 2020.
What can we expect from DLT in 2020 as a leader for the Cloud in public sector?
DLT is not only tracking these trends, but we're also capitalizing on them. In 2019 we relaunched the DLT Cloud Navigator partner program. This partner program is tailor-made to accelerate our partners' cloud business within the U.S. public sector, and we're now supporting more than 60 specialty cloud partners. In 2020 we will continue to drive success in our partner ecosystem and add new Cloud Navigator programs that provide additional capabilities to our partners and vendors supporting innovation in the broader public sector. In 2020 we also expect to expand our CSP partner offerings and continue to drive Cloud adoption and optimization for the public sector through our partner ecosystem.
To learn more about how DLT is driving Cloud adoption and innovation in the public sector, please click here.