Information Technology Enterprise Solutions - Software2 (ITES-SW2)
Contract Number:
W52P1J-20-D-0047
Period of Performance:
August 31, 2020 - August 30, 2025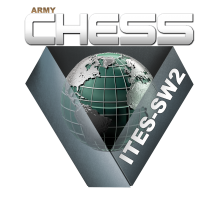 ​Army Computer Hardware Enterprise Software and Solution (CHESS), in coordination with the Army Contracting Command (ACC), Rock Island (RI), requires contracts to support the Army's IT software requirements, within the Continental United States (CONUS) and Outside the Continental United States (OCONUS) to include remote OCONUS, covering a full range of Information Technology (IT) software for client, server, storage, and network environments; for software maintenance; and for related incidental services and hardware as part of an Information Technology Enterprise Solutions – Software 2 (ITES-SW 2) total solution. The fundamental purpose of the ITES-SW 2 acquisition is to support the Army and all Federal agencies in their enterprise infrastructure and infostructure goals by leveraging commercial-off-the-shelf (COTS) software products and maintenance in specific product categories.
Ordering will be open to the Army, DoD, all other Federal Agencies and authorized Government Contractors supporting these agencies. Government Contractors performing work for these agencies may place Delivery Orders under this Contract on behalf of and for the benefit of these agencies if authorized by their cognizant Contracting Officer in accordance with the requirements of FAR 51 and/or DFARS 251 as appropriate.​
Ordering Instructions:
Requests for software under ITES-SW2 are submitted via the CHESS RFQ or RA tools. The ITES-SW2 contracts are the Army's mandatory source for the purchase of COTS IT software products. Army customers must follow the software order of precedence which is: Enterprise License Agreement (ELA), ITES-SW2, DOD Enterprise Software Initiative (ESI) Blanket Purchase Agreements (BPA). Customers must obtain a Statement of Non-availability from CHESS and/or an ITAS Waiver from the CIO/G-6 if they wish to purchase outside of CHESS. Note that purchasing from an ELA or DOD ESI is considered purchasing through CHESS. See the CHESS FAQ page for further information.
Software Catalogs:
| | |
| --- | --- |
| | Multimedia & Design |
| Business & Finance | NetOps |
| Communication | Office Suite |
| Database | Operating Systems |
| Education | Programming & Development |
| Internet | IT Utility & Security |
| Modeling & Simulation | Specialized​ |
Contract Ceiling: $13B
Contract Type: IDIQ
Benefits of using ITES-SW2:
​No fees associated
Decentralized Ordering
Open to Army, DoD, and all Federal Agencies
For telephonic support, please call 800.262.4DLT (4358).

Extra Details