5 Ways your Move to a BIM Workflow Pays Off for Government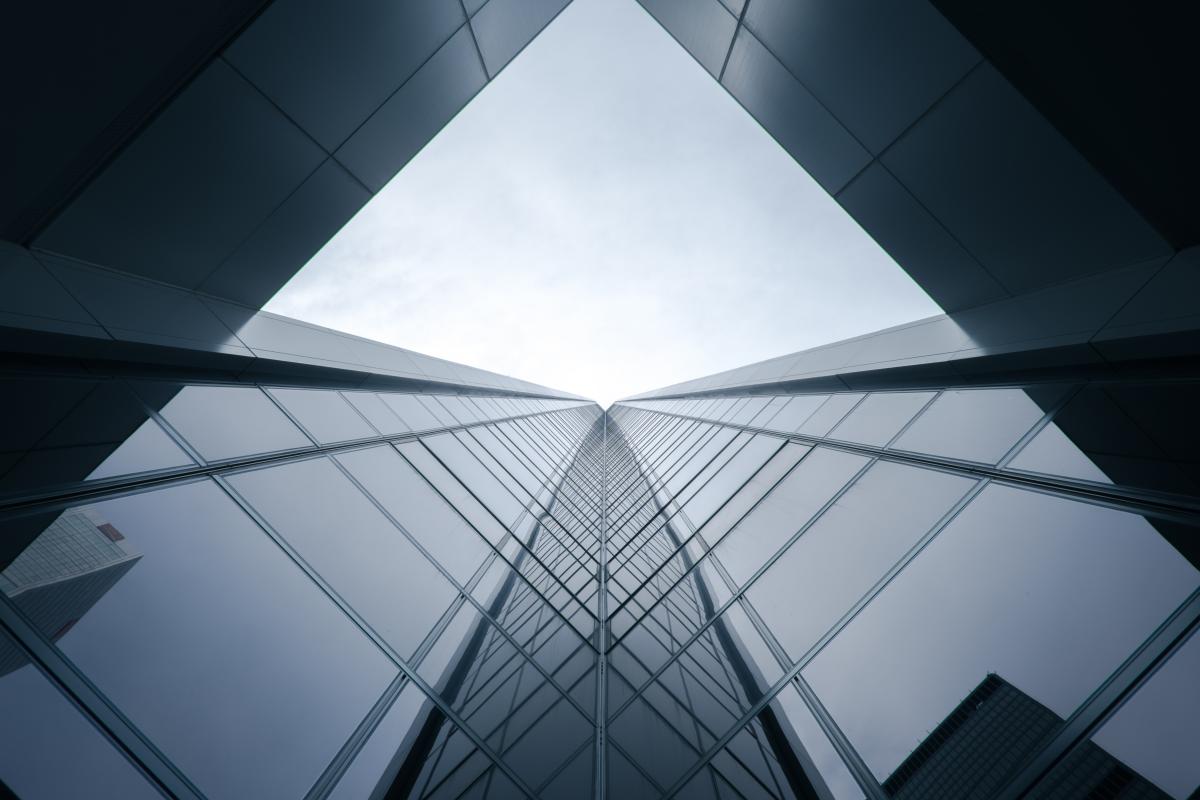 Perhaps you're considering BIM for your next agency or department's next building, facilities management, or civil infrastructure project. But what's the best way to make sure you get full value from your investment in BIM?
While BIM is a process and not software, and the shift from CAD to BIM involves changes that go beyond a simple software upgrade, the BIM software package you select can make all the difference in the benefits you realize. The Architecture, Engineering, and Construction (AEC) Collection from Autodesk a powerful portfolio of BIM tools that extends the power of BIM through interoperable software and services. Simply stated, Autodesk BIM gives you the power to do more.
Here are five ways these tools can maximize your investment of tax payer dollars in BIM.
1. Ensure Higher Quality Work
Autodesk Revit software by itself delivers the tools for better project outcomes associated with BIM, but when you deploy Revit as part of the AEC Collection its power significantly increases. The Collection includes software and services that work with Revit to help you fully explore ideas, carefully evaluate design options, and make well-informed design decisions. For example, you can understand your design and make smarter design decisions using Autodesk Insight cloud-based analysis services to optimize and iterate during the design phase. Things like sun and shadow studies. You can also run cost estimates, monitor changes in performance over the course of the project and more.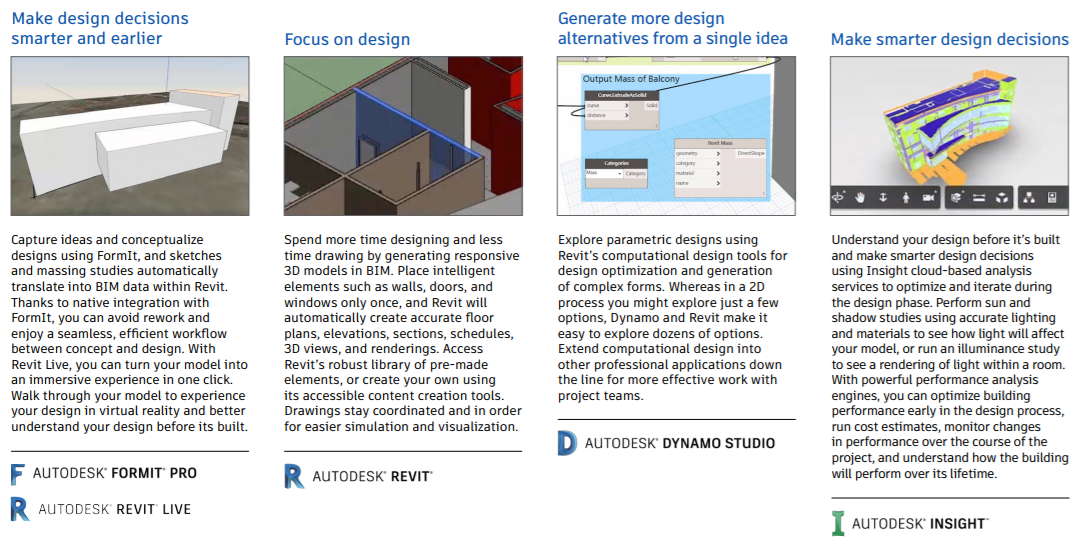 2. Be More Efficient
Together, the products in the AEC Collection amplify the effectiveness of BIM as a process that drives efficiency. Because the software on the platform is interoperable, the risk of data translation errors is minimized, resulting in smoother and faster design processes. As BIM has evolved, the efficiency advantages have gained momentum. Time saved translates into cost savings, and fewer errors leads to reduced risk and rework.
Any investment in software, regardless of size, should be taken seriously. Value and ROI always matter! When you subscribe to multiple Autodesk software solutions as part of a Collection, you get significant cost savings for maximized ROI.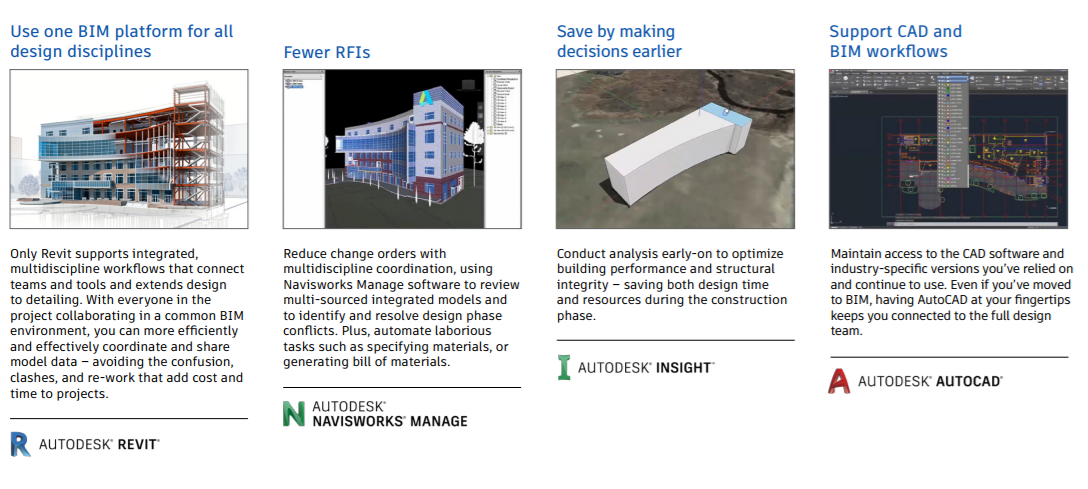 3. Do More In-House
With the AEC Collection you can do more of the work that you currently outsource to consultants and contractors. Instead of paying external agencies for visualizations that help you gain project stakeholder approvals, you can create your own photorealistic renderings in-house. You can also own the analysis, by conducting building performance analyses, and such like, from your desk.
4. Better Meet BIM Mandates
As GSA and many states move to mandate BIM (BIM has been embraced by DOTs, including WisDOT, MassDOT, FDOT, and CALTRANS), the AEC Collection can equip you to meet requirements for BIM adoption. Whether you're fully BIM adopted and just need to have AutoCAD on hand, or you're making the move from CAD-based design to BIM, the AEC Collection helps ensure that you have the software you need for both BIM and CAD workflows.
5. Make Your BIM Software Work for You
One of the big benefits of the AEC Collection is that Autodesk has rolled in a host of tools and services that make the software better work for you. You get software updates as soon as they're released – but you retain control of whether you roll them out, to whom, and when. For example, if you're involved in infrastructure design, you may be using Civil 3D for detailed design documentation. But what if you need to get stakeholder buy-in or share designs with the public before you get to the design phase, yikes! If you have a subscription to the AEC Collection you can download InfraWorks 360 (or choose a 30-day trial) just to meet the particular needs of that project.
You can also download previous releases of Autodesk software, a useful option if you're working with project files created in an earlier version.
You also have access to help, including senior Autodesk support specialists, community support forums, e-learning opportunities, and more.
And because the Collections are available on a subscription model, you get access to all these new tools without a big upfront investment. Remember how perpetual licenses restricted software use to one person? Well, with Collections you can get single-user access or choose a subscription that lets you share licenses with multi-user access.
Finally, easy-to-use administrative tools allow you to simply and effectively manage software licenses, seats, and usage, all from your Autodesk account.