How Autodesk Upgrade Policy Changes Affect Government Users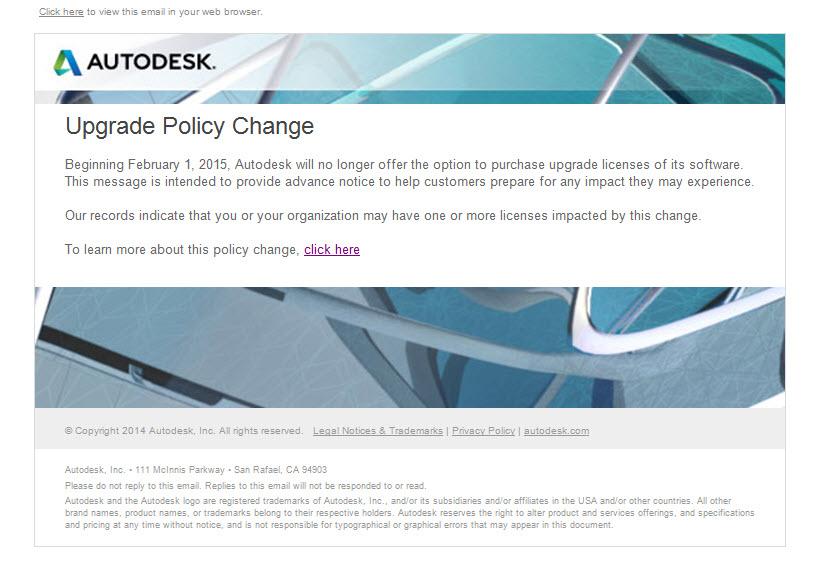 If you're a user of Autodesk software, listen up. As of February 1, 2015, your options for upgrading that software to the latest release are changing. To learn more about the upgrade changes, who it impacts, and what your options are, download How Autodesk Upgrade Policy Changes Affect Government Users.
In the past, Autodesk customers enjoyed discounted pricing on new releases, making upgrades a relatively accessible option. However, starting next year, these upgrade discounts are going away.
In a nutshell, if you own Autodesk software and are not also an Autodesk Subscription customer, then you'll have to pay full price for a new license to upgrade to the latest release. Not great news, especially if you're already dealing with tight budgets.
Autodesk Subscription is the Way to Go
As mentioned above, this change doesn't impact customers who are already signed up for Autodesk Subscription. They can enjoy automatic upgrades, in addition to a range of other benefits including technical support, access to exclusive cloud services, and more.
If you're not already a Subscription customer, it's highly recommended that you upgrade to the current software and add Subscription (Feds – this is a great way to use up "use-it-or-lose-it" year-end funds).
If you need help building a strong business case for the upgrade, read our earlier blog: How to Make the Case for Upgrading your Agency's Autodesk Software.