State of California Multiple Award Schedule (CMAS)
Contract Number:
3-16-70-1047B
Period of Performance:
July 19, 2016 - April 11, 2026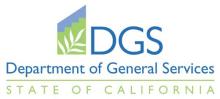 The State of California establishes multiple award agreements in accordance with Public Contract Code Sections 10290 et seq. and 12101.5 (effective January 1994). A multiple award is an award to two or more contractors for the same products and/or services at the same or similar prices. Multiple award does not pertain to the number of buyers who would be ordering from the agreement, but rather the number of contractors receiving an award from a common bid process. CMAS agreements are not established through a competitive bid process conducted by the State of California. Because of this, all pricing, products and/or services offered must have been previously bid and awarded on a Federal GSA schedule.
About / Contract Overview
California Multiple Award Schedules (CMAS) offers a wide variety of commodity, non-IT Services, and information technology products and services at prices which have been assessed to be fair, reasonable and competitive. The CMAS Program creates a pool of suppliers that an agency can solicit offers from. When utilized correctly, CMAS streamlines the procurement process. This form of procurement differs from the competitive bid process.
Learn More and Request a Quote
To learn more about the products and services DLT provides for the California Multiple Award Schedule (3-16-70-1047B) or to obtain a quote, please call 800.262.4DLT (4358), or email programmanagement@dlt.com or fax 866.708.6867.
In addition, please refer to the following information about DLT's contract:
For any unresolved issues, problematic orders, or post-delivery issues, please contact DLT's Contracts Program Office:
Chris Kline
Program Manager
Tel: 800.262.4DLT (4358)
Email: programmanagement@dlt.com