DLT Thought Light Interview – Lora L. Allen, Principal CX Advisor, Public Sector, Medallia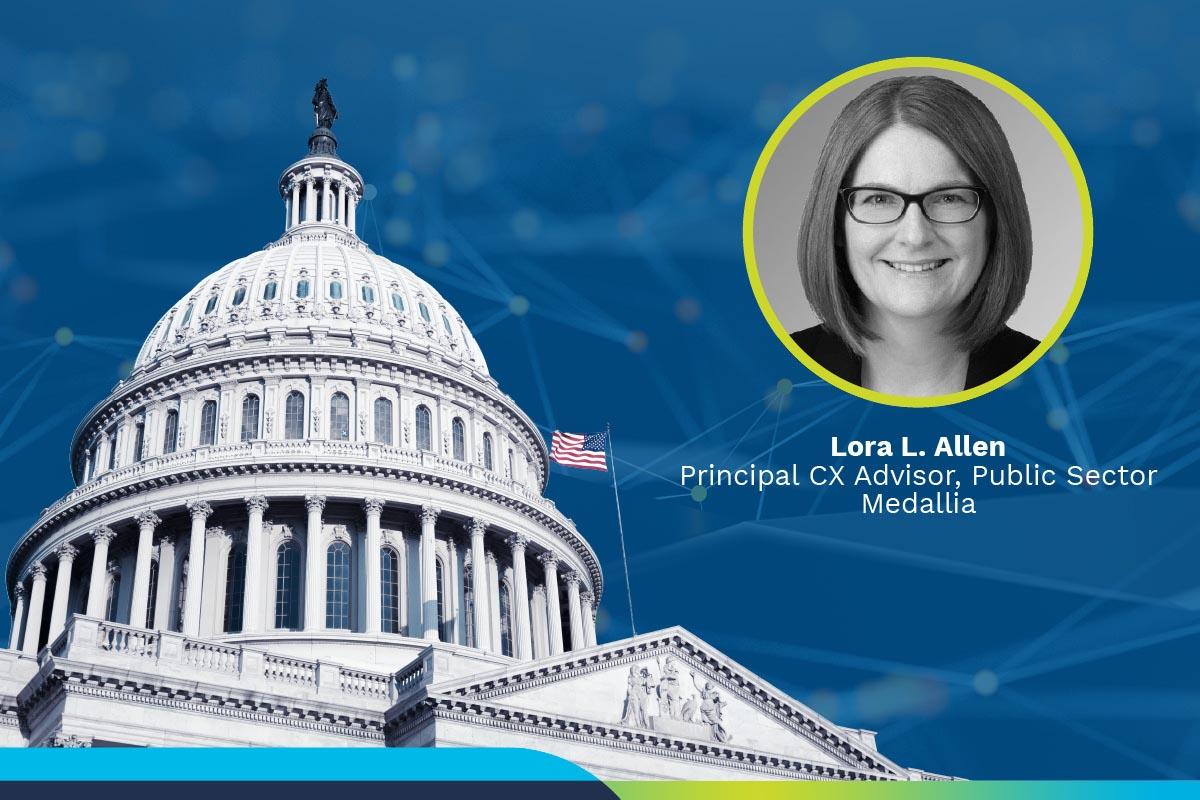 DLT's Chief Data Scientist, Sherry Bennett, recently sat down recently with Lora L. Allen, Medallia's Public Sector Principal CX Advisor and discussed her service in the public sector, Lora's role at Medallia helping educate and advise government agencies that are tackling CX challenges, and more.
Q: Prior to joining Medallia, you spent your entire career in public service, can you kindly tell me how your service has shaped and informed your current focus on customer experience?
A: Prior to coming to Medallia, I served over 15 years in the federal government. That combined with my childhood experience has really shaped how I approach customer experience. My extended family resides in Appalachia, and I am a first-generation college student. Making sure the voice of the people in communities of need around the country are heard in Washington, DC really matters. So, I decided early on in my childhood that I wanted to work in government to help and serve people. I've always been surrounded by people, such as my mother, a public servant, and my dad saying, "Lora, don't forget about people," and what value you can deliver to them. I think that culture, purpose, and the "why" is really important when operationalizing empathy, and building a culture that collects customer and employee feedback, and then empowers teams to act on that data. In government, we have significant challenges around talent management and customer experience. Technology and other resources required to execute on customer experience initiatives will need to leverage partnerships with private industry. So, I'm very thrilled to be at Medallia and one of their first Principal CX Advisors, whose role it is to educate and advise public government agencies who are tackling CX challenges.
Q: Can you tell me a little more detail about your Principal CX Advisor role at Medallia. What do you do? How is it that you support our public sector customers?
A: My role at Medallia is to provide strategic guidance around best practices and core competencies in customer experience work. I work collaboratively with our internal teams, as well as our public sector clients as they're thinking through the development of their CX programs. I advise on how to construct surveys for research and insights, how to build processes in governance, and break down data silos, so organizations are not reactionary but have the capacity to assess and act on real time feedback from customers and employees as well.
Organizations struggle to incorporate these insights into their operations — I work with teams so that we can implement improvements, and really do some transformational work that we know that will improve outcomes that everyone cares about — especially executives and customers. We can all recall a bad experience we have had with a public sector agency. It takes about 10 good experiences to make up for that one bad experience. It's critical to think about the customer, their perceptions, and emotions as they're interacting with our different service channels within the federal government. Those perceptions really impact public trust and overall satisfaction.
Equity is an important consideration in this process as well. We have various digital mechanisms that promote customer interactions. However, everyone may not have broadband or internet. But they may have a mobile phone. Providing ways for customers to provide feedback on their own terms and in different delivery methods can help us to capture more feedback from underrepresented groups within our survey programs.
When analyzing opportunities for making improvements, I really like human centered design, and thinking about how best to frame a problem from a data point of view, taking feedback from the different stakeholders and making sure everyone's at that table as we work towards a vision or goal. Some of this is academic in theory, and some of it is very tactical — we like to position ourselves as a thought leader, with best practices in the core competencies of customer experience. I think it's a fun time to be at Medallia and working with the public sector because of so much focus around customer experience, even on the hill in legislation, and executive orders around equity assessments. There is so much potential around both customer experience and employee experience to make transformational changes in government.
Q: What are some key takeaways from your time at General Service Administration (GSA) as the program manager for customer experience and then later the lead for the research and strategy in this area?
A: At the GSA, I was a Customer Experience Program Manager within a business unit support function for federal acquisitions — I worked a lot with teams around customer service improvements and how best to empower teams with data, based on real time customer feedback through surveys and interactions. Specifically, determining how do we action plan on and use that feedback into how we make decisions around investments. Working in a decentralized model, I was very close to the voice of the customer and their needs. Our team helped our office to consolidate contact centers. When we did that, not only did we see improvement of operational efficiency and cost savings, but it improved our customer experience metrics.
GSA executes relationship surveys with federal agency customers who are buying solutions through GSA contract vehicles, and we also had a supplier relationship management survey. In my role, I share that data and work with our teams to say, "how can we incorporate some of this customer feedback into our programs and initiatives this year, so that we can improve the satisfaction scores?" During my time there, we saw some of the largest gains of customer satisfaction. I contribute this by acting on feedback and making CX a priority in operations. We also focused on Human Centered Design, and user research methods that help us to prioritize data and engage GSA stakeholders on long term improvements.
Some lessons I've learned are that CX is a team sport, you can't do this work alone. This work really is about transforming your culture, its behaviors across the organization and making customers the center of the process and how we approach our work and deliver services to them. At the end of the day, if you're trying to transform your organization around customer experience, you're going to have to engage the whole organization. That means your senior Executive Councils, Finance, HR, etc. What I've seen work best in the federal government, is having a hybrid governance model that has a core team focusing on CX vision and strategy. We also need a hub for training and innovation. It is important for every employee to think about what "customer experience" means to me in my role. It is an important question for a core team to define in their organization with stakeholders. We need to integrate CX with business needs.
One last thing is change doesn't happen overnight — it is never easy. Culture plays a huge part, and yes you focus on quick wins, but it is important for executives and teams to realize, you know, this is hard work. When leading these types of workforce transformation projects, we need to be committed to these long-term investments. When we do, we're going to see the results of it. A lot of this work is a multi-year transformation effort.
Q: Modernizing our federal IT infrastructure through a user's lens is supposed to lead to tangible and quantifiable benefits to organizations. Do you agree with this?
A: Yes. A lot of times I've seen IT investments, whether a website, or a digital form, or application or, or just supporting the infrastructure of the government being built in silos without an enterprise strategy in place or placing user needs at the center of the process. By not using agile development or human centered design methods at scale, there are missed opportunities for better experiences and cost savings. It's so critical, from my perspective, as a customer experience thought leader, that everything we build and implement should be supporting the mission and providing a cohesive journey (increasing satisfaction, reducing burdens, increasing ease, and mission effectiveness). When we have the right strategy in place with teams, you will see tangible quantifiable benefits to organizations around cost savings, increases to adoption or use, as well as overall satisfaction.
I know, we don't have all the answers. That's why I think OMB under the Biden-Harris Administration was so creative in using the RFI acquisition process to get input from constituents, industry and academia around the topic of "equity." Most Americans don't live in Washington, DC. So how do we make sure that all voices are at the center of our programs, policies, and services. Fundamentally, equity is about people and their experience of the world around them — including their experiences of public services (from policy and processes, digital websites, information access to customer service). Operationalizing Customer and Employee Experience are foundational to drive equity. It's important that we listen harder and be able to capture signals in a central platform where people can interact with us, whether that's by video, or text, or another method — information needs to get to the right teams and decision makers so that those suggestions and ideas can be considered and acted on.
I also think human centered design methods can help stakeholders create safe spaces to have some of these big conversations. For a lot of Americans who are not white, people of color, they have had a different experience than I have. Government programs and policies have personally impacted them and their families in negative ways. It is really critical for federal employees, and contractors who are working in government to understand that history. I'm very, very happy to see this a huge focus of the Biden-Harris Administration. Equitable listening, the process of receiving, understanding and responding to feedback in a way that is fair, impartial, and representative of those who you serve, is the key to breaking down barriers to reaching traditionally underserved communities. I really believe Medallia's platform helps government leaders and implementers with equitable listening by elevating underrepresented voices and connecting data insights at scale through feedback, social media, text analytics, and machine learning to make improvements.