State of Texas DIR Multi-Vendor Software II IDIQ
Contract Number:
DIR-TSO-4236
Period of Performance:
October 18, 2019 - October 18, 2025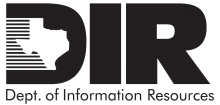 About / Overview
DLT Solutions has been awarded a software contract by the State of Texas Department of Information Resources (DIR). This contract includes Software as a Service, products and related services. Through this contract, state and local government entities as well as educational institutions in Texas and beyond will have fast and cost-effective means to procure software solutions from leading providers of IT software, including: AppDynamics, Archibus, Autodesk, Blackboard, CloudBees, CrowdStrike, Demisto, ELearningForce, Flexera, Informatica, McAfee, Nuix, One Identity, Palo Alto Networks, Pluralsight, Polyverse, Quest, Red Hat, Software AG, Sumo Logic, Titus, Tripwire, and Veritas.
The Texas DIR contract is an important procurement vehicle for Texas-based customers seeking to purchase the latest information technology software products and related services. Texas DIR leverages the buying power of the State of Texas and delivers access to hundreds of products and services at volume discount pricing. Texas DIR allows agencies and public organizations to save time and resources by providing easy access to pricing, ordering process and other information.
Warranty and returns are based on the Manufacturer's warranty and return policies.
Purchase Orders and Quote Requests must reference the DIR contract number DIR-TSO-4236.
Learn More and Request a Quote
To learn more about the products and services DLT provides for the State of Texas DIR Multi-Vendor Software II IDIQ (DIR-TSO-4236) or to obtain a quote, please call 800.262.4DLT (4358), or email programmanagement@dlt.com or fax 866.708.6867.
In addition, please refer to the following information about DLT's contract:
Other Notes
Resellers
TABORDA TEXAS, LLC
SIRIUS COMPUTER SOLUTIONS, INC.
APOLLO INFORMATION SYSTEMS CORP
RED RIVER CONSULTING SERVICES LLC
iBRIDGE GROUP, LLC
FreeIT Data Solutions, Inc.