Signs that your Civil 3D Process Could be Better Optimized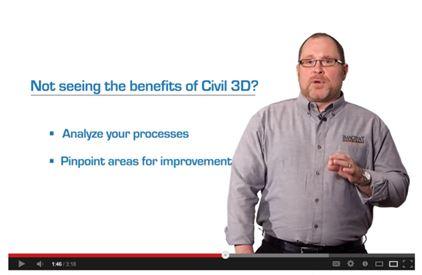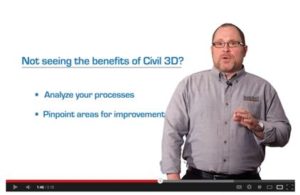 Is your Civil 3D process as efficient as it could be? Are you struggling to see improvements in your processes since adopting Civil 3D?
Typically 4% of an organization's processes can contribute up to 50% of its inefficiencies. But the trick is in identifying that 4%. Here are some common symptoms of process-related challenges:
Production staff frequently struggles with styles and settings
Inconsistencies exist in production files
Little to no use of LIDAR, GIS or georeferenced data
Inability to share information simply or quickly in digital format
Give Your Users a Civil 3D Health Check
If you're feeling the pain of an inefficient process, IMAGINiT Technologies has just launched a new Civil 3D Health Check service that can help public sector users assess how effective they are being in their use of Civil 3D – in areas such as user skills, processes (data sharing, project workflows, and data management) and technology best practices such as CAD standards, styles and settings.
To help you determine if Civil 3D is working for you, check out this video for signs that your Civil 3D process could be better optimized.
If not, then you may want to consider IMAGINiT's Civil 3D Health Check. This consultative service is designed to address the challenges faced by teams that have been using Civil 3D from the beginning who may be using old processes and workflows that could be evolved to make workflows more efficient and streamlined. In many cases, organizations know that they could be doing things more efficiently and effectively but they simply don't know where or how to start.
"IMAGINiT's global team of experts not only understand the mechanics of the software, but more importantly the workflow, training, and customizations that can be done with AutoCAD Civil 3D," says Bill Zavadil, senior vice president of worldwide services, IMAGINiT Technologies in the company's press release. "With the sole objective being enhanced team productivity, our Health Check service is used to quickly and effectively evaluate an organization's current working environment and their utilization of Civil 3D. This analysis generates an actionable report outlining what our customers can do to take technology, processes, and profitability to the next level."
After assessment and analysis, the IMAGINiT Health Check team generates a report with a list of the top items that organizations can improve upon immediately, in addition to prioritized actions focused on the longer term. This allows teams within companies using Civil 3D to explore design options more easily and efficiently, analyze project performance, and deliver consistent, higher quality information. With more efficient processes and streamlined workflows, collaboration is increased, and projects are completed faster with less billable hours and fewer project over-runs.