Top Google Maps Power Tips
Whether you use Google Maps to help you get where you need to go or to deliver up-to-date geospatial data quickly to agency employees, it's a great resource.  However, we tend to not take advantage of its full capabilities.  What are some other ways you can utilize this great tool?  Here are some useful Google Maps power tips:
1. Typing in cross streets to find a destination.  This is a great method for places where people tend to describe everything by cross streets.
2. Other than the default driving directions, you can get walking, bicycling, or public transit instructions by clicking on the icons at the top.
3. Need to make a quick stop or want to avoid a traffic accident? After you have used Google Maps to get directions to a destination, you can simply change the route by clicking and dragging any point along the route (on a computer only).
4. Want to avoid toll roads? Don't we all!  Click on the 'Show options' link located below the destination address.  If you click on any Google map, you will see a multitude of shortcuts.
5. If you have a website or a blog and want to embed a map on it, you can click on the 'Links'  icon at the top to get the embed code.  This also allows you to get a link to e-mail, post on a social site, or text message.
6. Create customized maps that will give you the ability to add text descriptors, embed video and photos on the map, and then share them publicly or publically by way of Google Earth.
7. Google gives you the ability to move location markers and edit the details. You can add a lot of details or offer specials on Google Places.  This capability is free too!
8. The 'Pegman' icon gives you the ability to use the street view of any map.  Street views are a really great tool for finding visual landmarks that can help you look for things in unfamiliar destinations.
9. 'Mashups' are where information from other resources are 'mashed up' with the maps.
Check out Google Maps: 100+ Best Tools and Mashups to learn more about Google Maps tools and mashups!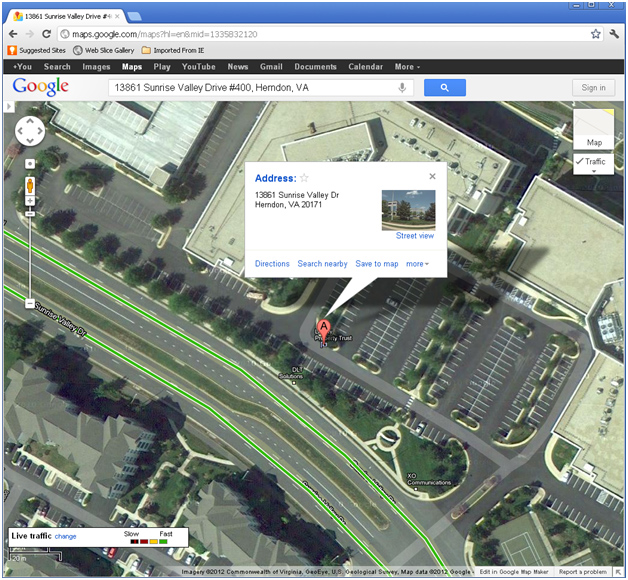 Acronym Headquarters as seen from Google Maps! (Google Maps)
Read the full article here: Power tips for Google Maps
Related Articles
Google Maps and Local Photographer Team to Visualize the Destruction in Joplin, MO
Google Earth and Google Maps – Going to Work for Public Good