Webinar: Design, optimize, and share the most efficient manufacturing facility layout before installation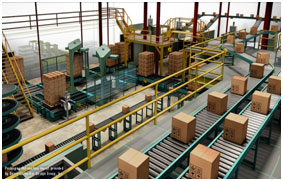 Government manufacturing spans the entire spectrum of the product development value chain – from research and technology invention to deployment and acquisition. However, innovation and production on such a scale brings with it inevitable challenges. Agencies face constant pressure to improve tactical and technological advantage, while saving costs and reducing manufacturing lead times. They are also seeking ways to leverage next generation manufacturing processes to address the key challenges inherent in the design and manufacturing process.
One way to create an unmatched environment for breakthroughs in each of these areas is in the design of the manufacturing facilities themselves. Many facilities today are inherently inefficient – material flow is fractured and slow; machine utilization is sub-par; energy is wasted, and floor space is often idle. It doesn't have to be this way!
Webinar: Eliminate Inefficiencies in Manufacturing Facility and Factory Design
[acronym]'s sponsor, DLT Solutions and Autodesk will be hosting a live webinar on Enhancing the Power of AutoCAD with Autodesk Factory Design Suite Thursday, December 6, 2012 at 2:00pm ET | 11:00am PT.
By optimizing manufacturing facility and factory design with solutions from Autodesk, many of these inefficiencies can be eliminated and throughput can be increased – before a single piece of equipment or machinery is installed.
To register visit: https://www.dlt.com/AutodeskDesignSuite Related Article: Top Five Ways the Government is Utilizing Autodesk Software