The Sky is Not the Limit: Takeaways from the AWS Public Sector Summit
Key takeaways show how public sector customers are achieving more with cloud.
As cloud continues to transform the public sector, cloud has had its own metamorphosis: from a trendy buzz word to a catalyst for meaningful change, innovation, and more. Last month, AWS hosted its 10th annual AWS Public Sector Summit. The conference brought together more than 17,000 attendees for 2+ days of insights, sessions, and networking, and explored how cloud is fueling the public sector for a limitless future.
Recap
Teresa Carlson kicked off Day 1 of the Summit with a keynote centered around cloud trends and customer innovation where she explained how "AWS continues to grow with our customers," and is fueled by customer feedback. This growth includes an anticipated $31B revenue run rate (annualized from Q1 2019) and 41% year over year growth (Q1 2019 vs. Q1 2018).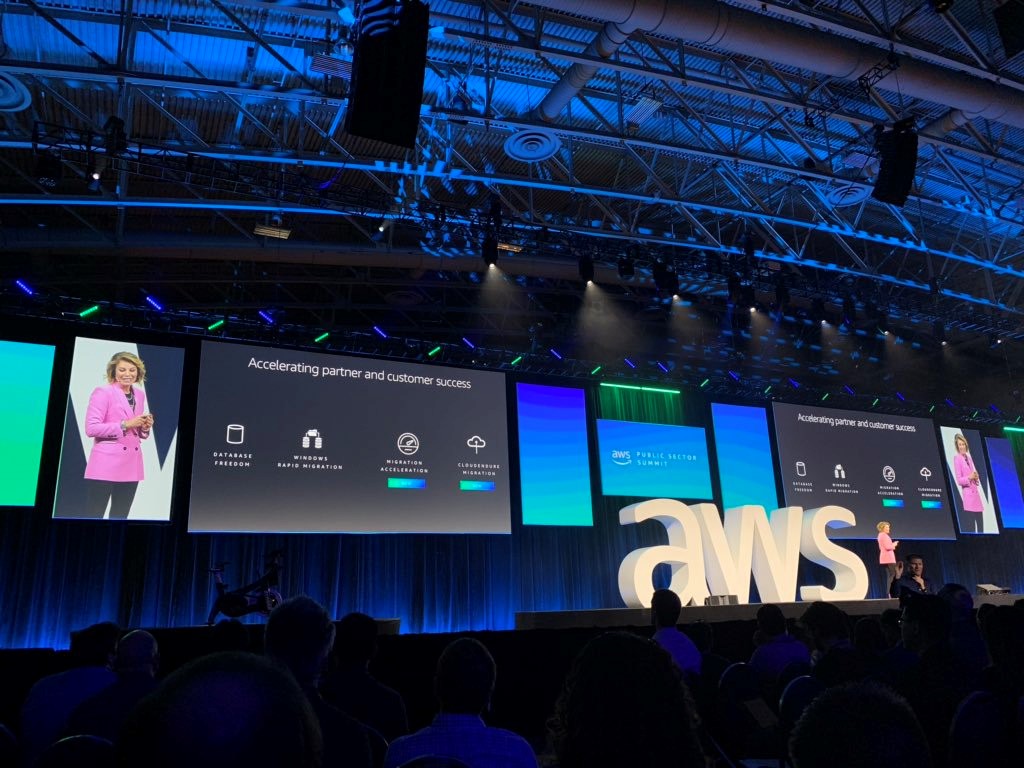 "[The cloud] is one of the best decisions we made, and it will, I think, be one of the decisions that's considered a leap forward. We are faster. We can ask more questions, and the cost to ask those questions is almost nothing. We take on much more complex problems than we did before," said Sue Gordon, Principal Deputy Director of National Intelligence Office of the Director of National Intelligence.
"What's really impressive is we didn't go and build a cloud. We built a process and a platform to onboard people to commercial cloud instead of building our own cloud. We now have access to the most state of the art cloud we have seen," said Kenny Bowen, CIO, US Department of Defense for Special Programs.
"When we started, we had no idea how successful we would be, especially as a public sector organization. We aimed to migrate 25-50% to AWS, but after the dust settled, we had moved 75% to AWS," said Morgan Reed, CIO of the State of Arizona.
Carlson acknowledged the critical importance of providing the best technology to support the Department of Defense, and those serving to protect and defend the US.
"You can focus on your mission, because we're doing our mission to keep you safe," said Carlson.
Carlson continued to applaud the Department of Defense for their adoption of the cloud, saying, "We're so excited our national security continues to break barriers with what they are doing with AWS. With our GovCloud and our classified regions, there are now no barriers today at all for the U.S. Department of Defense to be able to use the AWS cloud."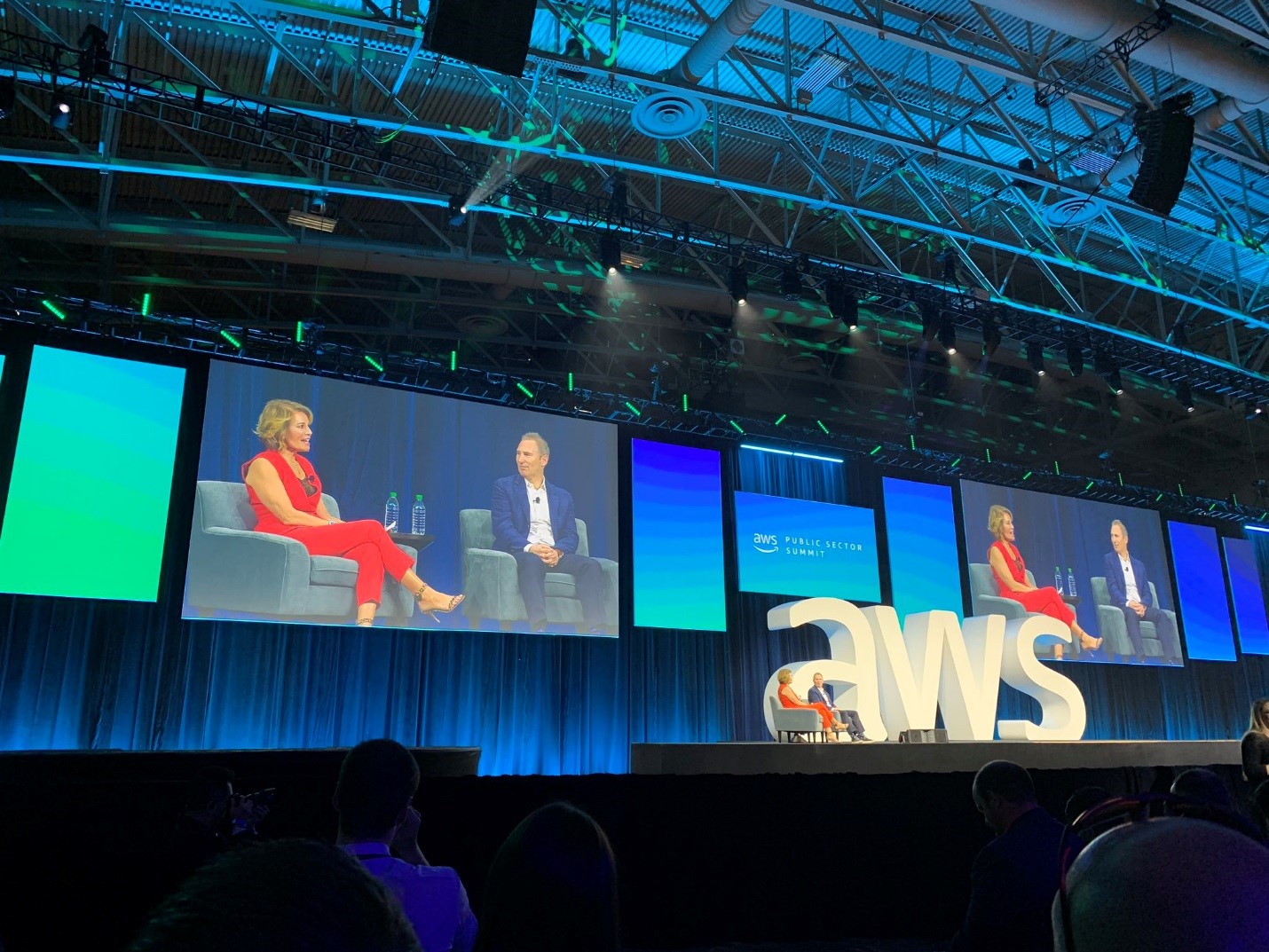 Customer innovation, however, is not just a marketing ploy: the company hires engineers to ensure it has a strong culture focused on breaking barriers and placing a priority on innovating – just like it allows its customers to do.
Jassy also acknowledged that for cloud migration to be successful, it needs to be realistic and prioritized – including use cases for hybrid cloud supported by AWS.
The future of on-premise technology, however, doesn't include data centers or hardware – the on-prem of the future includes millions, billions, and trillions of devices. Machine learning and artificial intelligence can be the bridge between data from devices and the power of the cloud.
Though AWS, similar to other technology giants, is still at the beginning phase of developing AI and ML capabilities, it is a key focus and area of development.
"Machine learning needs to be more accessible to those who aren't ML technical experts," said Jassy before mentioning the power of AWS SageMaker to provide this accessibility.
Before closing out, Carlson and Jassy discussed the educational crisis facing the United States today. "We need to drive innovation to secure the future of our kids," Jassy urged, "We need solutions, and technology can be that solution."
Key Announcements
Some key announcements include:
• Over 220 new services and features in AWS GovCloud (US)
• CloudEndure Migration is now available at no charge
• 2019 AWS Imagine Grant open
• George Mason University and Northern Virginia Community College Announce the Region's First Bachelor's Degree for Cloud Computing with AWS Educate
Takeaways for the Public Sector
It's no secret that public sector customers are breaking barriers and increasing the pace of innovation, security measures and support for critical missions with AWS.
While some cloud vendors have shied away from supporting, embracing and ensuring the success of defense agencies, AWS is unwavering in its support and celebratory of the successes by the US Department of Defense. AWS is currently the only cloud vendor possessing the Defense Information Systems Agency's Impact Level 6, allowing AWS to handle secret and top secret-level data in the cloud.
The Office of Management and Budget recently released its Cloud Smart strategy, which further demonstrated the evolution in the federal government's cloud computing strategy (from Cloud First in 2011, to Cloud Smart in 2019) and its commitment to cloud adoption.
Agencies of all sizes are moving their business applications to the AWS Cloud to lower costs, deploy more quickly, and simplify infrastructure management, and with exceptional results. Not sure where or how to start your cloud journey, or how to evolve your cloud usage? DLT is here to help. Call 1-800-262-4DLT or email cloud-solutions@www.dlt.com.