Boosting the Power of Integrated Project Delivery with BIM
Building teams are looking more closely at Integrated Project Delivery (IPD) in the midst of the worldwide economic crunch. In fact, IPD is emerging as the standard for early collaboration and powerful decision-making in the building industry. IPD and
Building Information Modeling
(BIM) together can further boost productivity and reduce risks.
What is IPD?
IPD is an arrangement between designers, engineers, contractors and owners where all share in both the risks and rewards for a given project. Experience reveals four main benefits to using IPD:
Early involvement of key players:When all principal parties – architect, engineer, contractor and owner – collaborate from the beginning, communication is improved and there are fewer opportunities for errors and misunderstandings.

Joint risks and rewards

:PD entails a shared risk and reward system; when the group wins, everyone wins. Contractually, everyone is obligated to work together for the common good.

Shared project management

:Everyone involved shares in the project management and makes decisions together. There's not one person calling the shots and trying to override others' ideas.

Zero litigation

:The IPD contract specifies that no party can sue another party. Everyone involved in the project must work out any differences, which reinforces the joint risks and rewards system.
Adding
BIM
to the mix
The American Institute of Architects defines BIM as "a model-based technology linked with a database of project information." It typically uses real-time, three-dimensional, dynamic modeling software to increase productivity in building design and construction. Integrating a BIM toolset into the IPD process helps project teams use information in a more fully integrated environment, thereby boosting efficiency, saving money and avoiding legal hassles.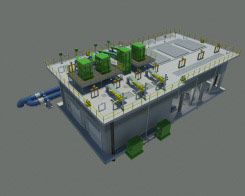 Think of IPD as the framework and BIM as the tool to execute and deliver within this framework. BIM makes IPD easier to accomplish. It builds a more consistent platform to gain more from a data-rich model. Of course, the project can proceed more smoothly if data is compatible. In many cases, the foundation of choice is the Revit platform. When all the parties are using similar technology –
Autodesk® Revit® Architecture
, Revit® Structure and Revit® MEP, for example – the mechanical, electrical, plumbing, structural engineering and architectural work are housed on a similar platform. Files can be used more interchangeably from one party to another, simplifying the process of resolving interferences and building upon each party's work. Working Revit to Revit is ideal, but it's not a requirement. If one project stakeholder is using a different platform – Bentley Architecture, for example – the file formats can still work together. Contractors can rely on Autodesk Navisworks, which can handle a large number of file formats and large data sets, enabling project data to be brought together to locate and resolve conflicts quickly and easily, no matter on what platform the data was created.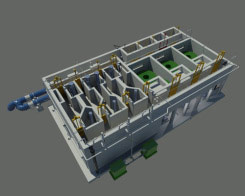 Tangible benefits
The benefits of using BIM and IPD together are real. At a recent public arena project in the Midwest, run traditionally without IPD or BIM, there were 60 RFIs and $357,000 in change orders. A similar project, using BIM, resulted in just two RFIs and only $26,000 in change orders. And it's possible that these change orders were necessary because the subcontractors were not using BIM. In a government sense this allows for better quality design and a more controlled project timeline.
On the horizon
Over the long term, we'll be seeing a growing use of IPD and BIM working together, as a lean and clean way to deliver projects on time and on budget. By Beau Turner, Director of Business Development, Building Solutions Group, Avatech Solutions Originially published in
[acronym] magazine, Issue 11
Beau Turner Bio:
Beau helps clients in Avatech's Building Solutions Group find innovative solutions through workflow processes and strategic technical direction. He frequently speaks on building information modeling, building industry trends and visualization solutions. You can reach him at 800-493-3233 or
beau.turner@avatech.com
.