What's on The Government "Green" To-Do List for 2011?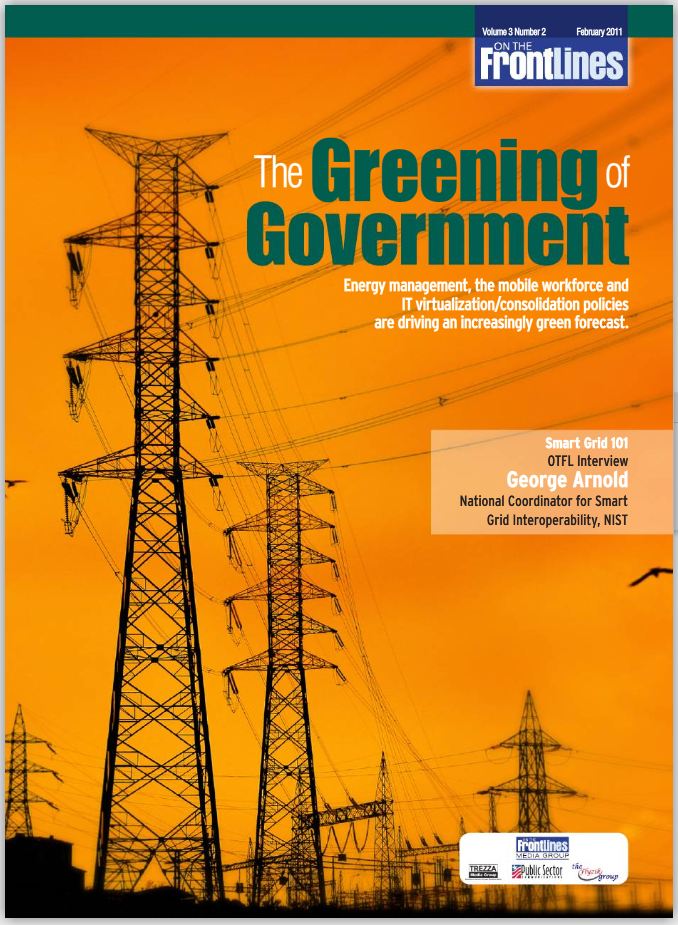 From the many-layered benefits of cloud computing, building information modeling (BIM), and smart grids to simple acts like putting lighting controls in the hands of office workers, the federal government is already achieving specific gains in its sustainability and green efforts as mandated 2009's Executive Order 13514.
Not only this, but many are seeing the road to new sustainability standards as an exciting, once in a lifetime opportunity, that is quite literally changing the mindset of government leaders.
This is the focus of the latest industry-sponsored "On the Frontlines" e-magazine "The Greening of Government", which takes a sweeping look at what has been achieved to date in support of the green government imperative and what is on the cards for 2011.
Here are just some of the highlights of what's on that "to-do" list:
What are the Priorities and Action Items for the "Green" Leaders at GSA and EPA?
In 2011, the General Services Administration (GSA) is taking a holistic approach to sustainability. As landlord for the federal civilian government, GSA is focusing on its environmental footprint (which includes provisions for measuring waste and water), not just its carbon footprint and using its influence and "green" leadership to help other agencies meet and exceed their goals and standards also.
After all, as Kevin Kampschroer, GSA's director of High Performance Buildings, explains "…buildings are not things, they are parts of communities… It's not just what the building does, but what the people do on the way to the building, employee travel, commuting patterns." Read about the GSA's milestones and progress to date as well as how EPA is approaching sustainability through the eyes of an IT person in "Getting Down to Green Business" on page 4.
Understanding the Energy Performance of Buildings to Focus Investments
GSA is not the only proponent of the end-to-end approach, Autodesk's Bob Middlebrooks explains how cloud-based tools are making it easier than ever to understand the energy performance of a building – both as a discrete piece, but also how that building relates to its elements, the environment, its location, and so on.
This holistic approach to design simulation and analysis is the epitome of what Building Information Modeling (BIM) can achieve. By looking at the building and its footprint as a whole, government designers can determine exactly where to invest in sustainable materials and design, based on unique site factors. Watch Bob Middlebrook talk through some of these points and read his contribution on page 12/13 in "Taking on a Darker Shade of Green".
And then there's the Smart Grid
From smart phones to smart cars, and now the "smart grid", smart technologies combine IT design innovation with user-driven interaction to deliver a number of benefits including greater integration of services and enhanced responsiveness.
But what does this mean for the nation's highly un-automated 100 year old electric grid? Read "Smart Grid 101" on page 6, for a plain English explanation of the smart grid, its drivers, challenges, and an insight into the expected evolution of smart grid technology and standards in 2011.  "On the Frontlines" also interviews George Arnold, National Coordinator for Smart Grid Interoperability, NIST, on page 8.
The "On The Frontlines" Publications are dedicated to showcasing the positive progress and best practices of the Federal Government Agencies and their strategic partners in meeting the goals of their Mission Programs and supporting the men and women who work on the frontlines.
Related Resources
Utility White Papers – For more insights into how utilities are addressing design aspects with sustainability in mind, take a look at this collection of free utilities white papers.
Related Articles