How Green are Your State Buildings? Meet the Top 10 States for LEED Buildings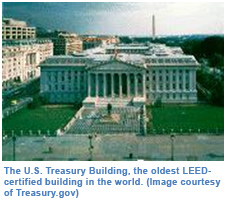 You may not be surprised to hear that Washington, D.C. leads the nation when it comes to green buildings. According to a report released this month by the U.S. Green Building Council (USGBC), Washington, D.C. has the most LEED-certified commercial and institutional buildings in the U.S.
In fact, Washington, D.C. had more than 31 square feet of LEED-certified space per person in 2011.
"This is a great accomplishment for the D.C. metropolitan region and a testament to the drive, commitment and leadership of all those who live, work and play in our community," said Mike Babcock, board chair of the National Capital Region Chapter of USGBC. "We also realize there is still more to do and hope to effectively guide the effort by engaging, educating and encouraging the dialogue around the value of sustainability."
Who else is on the List?
Since D.C. is technically a "district" and not a state, Colorado takes the top spot as the leading state with 2.74 square feet of LEED buildings per person in 2011, with Illinois following behind with 2.69 square feet per person.
USGBC cited notable newly certified projects in these states including the Treasury Building in Washington, D.C., which is distinguished as the oldest LEED-certified project in the world; the LEED-Platinum Casey Middle School in Boulder, Colorado; and the iconic Wrigley Building in Chicago, Illinois.
Other states on the list were Virginia, Washington, Maryland, Massachusetts, Texas, California, New York, and Minnesota.
Facts about LEED
LEED is the internationally recognized mark of green building excellence, with more than 44,000 projects commercial projects participating in the certification system, comprising over 8 billion square feet of construction space in all 50 states and 120 countries. And here's another statistic –LEED-certified existing buildings outpaced their newly built counterparts by 15 million square feet on a cumulative basis in 2011.
Learn more about LEED at www.usgbc.org.
Related Articles