Improving Air Quality in Pohnpei – Volunteers and Civil 3D Fix an Environmental Need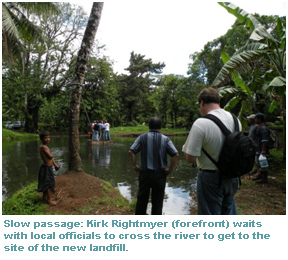 This is the third in a series of blogs that shares the extraordinary and sometimes life-changing stories and experiences of a group of CAD, AEC, GIS and BIM experts who have chosen to share their knowledge with under-served communities and nations. These volunteers work hand-in-hand with
KnowledgeWell
, a non-profit organization whose goal is to transform the barriers faced by under-resourced nations into opportunities for successful business enterprise and public sector programs. From Moscow to Micronesia and beyond, KnowledgeWell helps these communities to become more self-sufficient, increase their visibility in the global marketplace and create awareness of sustainable, environmentally friendly business practices.
When Kirk Rightmyer, a civil engineer with Carolina CAD Solutions, Inc., first learned about KnowledgeWell, a nonprofit that delivers business expertise to emerging parts of the world, he was impressed. "As I learned more about the projects KnowledgeWell was working on, I decided it would be neat to join in," Rightmyer says. So for the past decade, Rightmyer has volunteered on several KnowledgeWell missions, helping to bring U.S. business and engineering expertise to underserved areas. He says his work as a KnowledgeWell volunteer has been as important for him as it has been for the people in the communities he's helped. On one such mission, Rightmyer visited Pohnpei, Micronesia, an island in the Pacific Ocean located between Honolulu and Manila. The island's landfill was completely full and local authorities were attempting to burn it, a long process that was causing severe air quality problems. The landfill was not designed to meet modern standards, and important steps, such as treating the water sources nearby, were overlooked. The island had a site available for a new landfill and a grant for GPS equipment, and Rightmyer was charged with training islanders to use the GPS equipment and help with topography work on the new site. "We were trying to fix an environmental need," he says.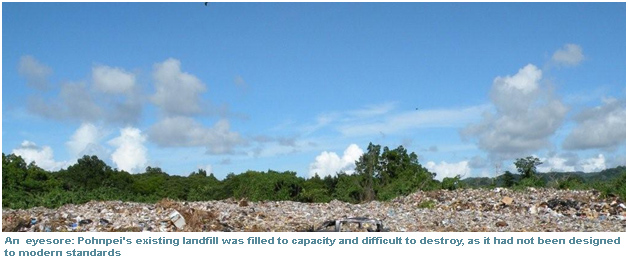 Solving the problem wasn't without challenges. There was no road all the way to the new landfill site; workers had to pull themselves across a river on a Styrofoam raft to get there. Additionally, neighbors of the new site did not welcome the landfill and tried to make workers' jobs difficult, removing markers left by topographic workers after hours. And of course, there were cultural differences: Rightmyer says he learned never to ask "yes or no" questions, as the Pohnpei natives would never answer "no" for fear of offending him. However, Rightmyer overcame the challenges to train local workers and get the job done. He trained them to use Autodesk's Civil 3D, which they used to do all the modeling work for the new site and compute volumes. Autodesk partners back in the States helped by completing a rendering of the new project, which local workers could use in their presentations to educate the neighbors and intergovernmental agencies about the project. Rightmyer says one of his favorite memories of the trip was when a man in his training class, who he had met in North Carolina a year earlier, introduced Rightmyer to everyone there as his friend. "That was one of the best compliments I've ever been given," Rightmyer says. "Once you win their confidence, everyone accepts you and is willing to ask questions and really try to learn from you. They were really a very smart group of people." After preparing the site for the new landfill and training local workers to use the GPS systems provided by Ashtech (a Trimble company), Rightmyer's work was over. But the results of his time there will continue to have a positive impact on the people of Pohnpei for years to come. "As they relocate the burned trash from the old site to the new site and begin using the new site, air quality on the island will significantly improve," Rightmyer says.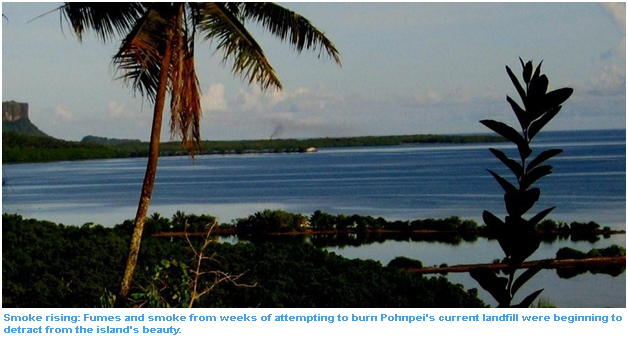 Because the old site is located right next to the airport, its smoldering remains and similarities to an auto junkyard have not been a welcome sight to island visitors or natives. Designed to modern standards with the help of Autodesk Civil3D, the new landfill will improve the local environment and allow the island to show off its beauty to visitors from the time they arrive on Pohnpei. For Rightmyer, success stories like Pohnpei's keep him coming back for more KnowledgeWell projects. In October, he'll travel to Kosrae to participate in KnowledgeWell's
Leadership Forum
.
www.knowledgewell.org
By Nancy Mann Jackson
Read the other articles in this series: