Your Autodesk Software Licenses May be at Risk

Earlier this year we blogged about how Autodesk is making some significant changes to the way its software can be procured. Since time is of the essence, here's a reminder of what's changing.
Effective January 31, 2016, Autodesk will no longer sell perpetual licenses of most individual (non-Suite) products. This change directly affects customers using AutoCAD, AutoCAD Civil 3D, AutoCAD Maps 3D, and Revit products (that's not all, here's a full list of products affected by the change). If you wish to purchase one of the products affected by this change you must purchase a new Desktop Subscription license after January 31, 2016. This change applies to both standalone and network licenses.
If you want to retain perpetual licensing options for these products, it's highly recommended that you move from these products to Autodesk Suites (Infrastructure Design Suite, Building Design Suite, and AutoCAD Design Suite.
If you're a federal customer, this is a particularly great time to make the move by taking advantage of year-end dollars.
To learn more about the ins and outs of the perpetual licensing changes and understand more about your Subscription options, check out this cheat sheet: Understanding Autodesk Subscription: Desktop vs Maintenance Subscription or click on the image below.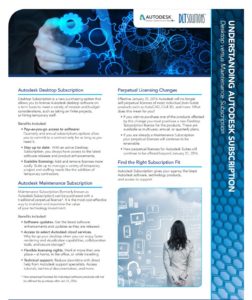 You can also learn more and request a quote by contacting Autodesk Government Reseller (and our partner), DLT Solutions at autodesk-solutions@www.dlt.com or give us a call at 888-447-2223.