Moving from AutoCAD to BIM for Building Floor Plans – The Wexner Medical Center at The Ohio State University's BIM Implementation Project
The Wexner Medical Center at The Ohio State University is reaching the end of  a project to convert all of our buildings from 2D AutoCAD drawings to 3D Building Information Models.  This project covers 53 buildings and slightly more than six million square feet.  Over the next five blog posts, my colleague, Brian Skripac, and I will share how the project was initiated, how it was executed, and the impact it has had on the Medical Center.
Idea Development – Moving from Lines on a Piece of Paper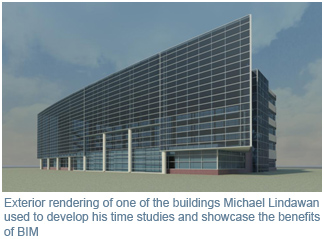 In July 2008, myself and Dave Pifher (Lead Facilities Space Analyst) began considering a transition away from our traditional AutoCAD documentation for representing building floor plans.  We recognized the limitations it had in representing space and the associated data.  In short, AutoCAD amounted to lines on a piece of paper for us, and our internal customers desired more value out of our space data.  Our initial investigation looked at staying with AutoCAD or moving to AutoCAD Architecture or Revit Architecture.  Over the next six months, we continued to informally investigate and discuss these options.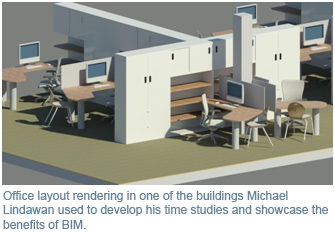 In January 2009, Dave and I were introduced to Brian Skripac, Director of BIM at DesignGroup, a local architecture firm with a reputation for BIM leadership in Columbus, Ohio.  Over the next 18 months, we continued to discuss our options while watching how the technology and the industry were progressing.
In June of 2010, we concluded that we needed to formally determine what it would take to make a wholesale switch to BIM.  The dramatic improvement to the visual presentation of facility plans, along with the ability to do energy modeling, and the general move to BIM by the architecture industry were the driving forces behind this decision.  In addition, a 1.1 million square foot Medical Center expansion project was being designed in Revit and coordinated in Autodesk Navisworks, and we wanted to be ready for the BIM deliverables at the end of that project.  One of our outstanding students, Michael Lindawan, was tasked with using the summer to investigate several conversion methods.  At the end of the summer, he presented his research along with some metrics of how much time, per square foot, the conversion from 2D to 3D would take.
Implementation Plan Development – Planning the Conversion to BIM
Using the work that Michael had done, we developed during the autumn of 2010, a detailed BIM Proposal and Implementation Plan to fully understand the timeline and resource requirements for a complete conversion to BIM.  This document was to serve as our way to formally scope the project and to promote this forward thinking initiative to senior leadership gaining the necessary labor and financial resources.
At that time, we identified the following as the immediate benefits of the implementation:
High quality 3D visualizations
Energy analysis and modeling
Improved planning in the areas of space, operations, security, and others
Improved drawing accuracy via field verification and further use of as-built documentation
Time savings in updating to the BIM model following construction or renovation projects versus AutoCAD
Utilizing industry standard drawing standards
Improved communication with leadership and customers as it relates to space usage and layout
The following were identified as benefits we would see at some point in the future:
Detailed location and information of  various types of equipment
3D campus maps
Improved way finding services
Other expanded services: For example, better support for safety, security, and disaster planning, in addition to developing 4D models that will show the impacts of construction and renovation over time
In the next post, Brian and I will discuss why and how the Medical Center developed its partnership with DesignGroup, our assumptions that lead to the development of our timeline and resource requests, and our multi-phased approach to our BIM implementation.
View the entire blog series from Joe and Brian here.
By Joe Porostosky, Senior Manager of Facilities Information and Technology Services at The Ohio State University
About Joe Porostosky
Joe Porostosky is the Senior Manager of Facilities Information and Technology Services at The Ohio State University.  His background in technology management has provided a foundation for utilizing BIM to improve the speed and quality of decision making at OSU. Joe and the team at OSUMC were awarded first prize in the [acronym] Magazine Public Sector CAD Awards in 2011.
About Brian Skripac

Brian Skripac, Assoc. AIA, LEED AP BD+C, is the Director of Building Information Modeling (BIM) at DesignGroup in Columbus, Ohio. A recognized industry leader, he focuses on the integration of digital design technologies into all of the design processes, including sustainability and building lifecycle management. He is frequently solicited by institutions, as well as professional organizations to present his expertise on the value BIM brings to industry.