Become a "Data Ready Enterprise" at the 2015 Informatica Government Summit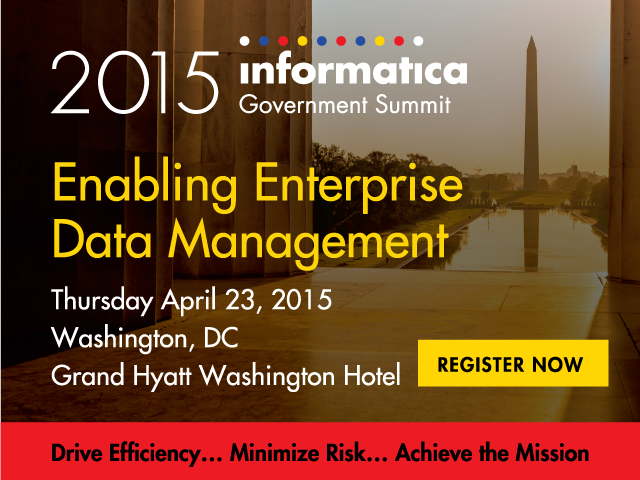 If you're situated within the Washington, D.C. metro area or surrounding states, mark your calendar for the 2015 Informatica Government Summit to be held on April 23, 2015 at the Grand Hyatt Washington Hotel.
Data growth in government is both a problem and an opportunity. All too often agencies find that their available data is incomplete, inaccurate, unavailable, in the wrong place, full of discrepancies, or simply in the wrong format. However, once unlocked, that same data can deliver hidden insights and improve mission effectiveness.
Hosted by Informatica and sponsored by DLT Solutions, this year's event promises to be the go-to event for insights and actionable guidance on how your agency can use enterprise management strategies to become a data ready organization.
There are lots of reasons to attend, but here are just five we think you should talk to your boss about. At the Summit, you'll:
Discover how becoming a "data ready enterprise" dramatically improves the results of your analytics efforts.
Understand how to reduce risk and combat data privacy and security challenges in an ever-changing threat landscape.
Learn how to overcome data challenges that will allow our agency to become more agile and take better advantage of the Cloud.
Ask the experts. Explore how to meet initiatives such as FISMA, Shared Services, Big Data Analytics, and Data Center/Application Consolidation.
Connect with other public sector customers and knowledgeable technology professionals to discuss how they are better managing enterprise data to increase the effectiveness of their programs.
Check out the agenda here. If you still need help convincing your manager to let you attend, download this letter to justify your attendance (the event is free so all you need is approval to be there on April 23rd)!